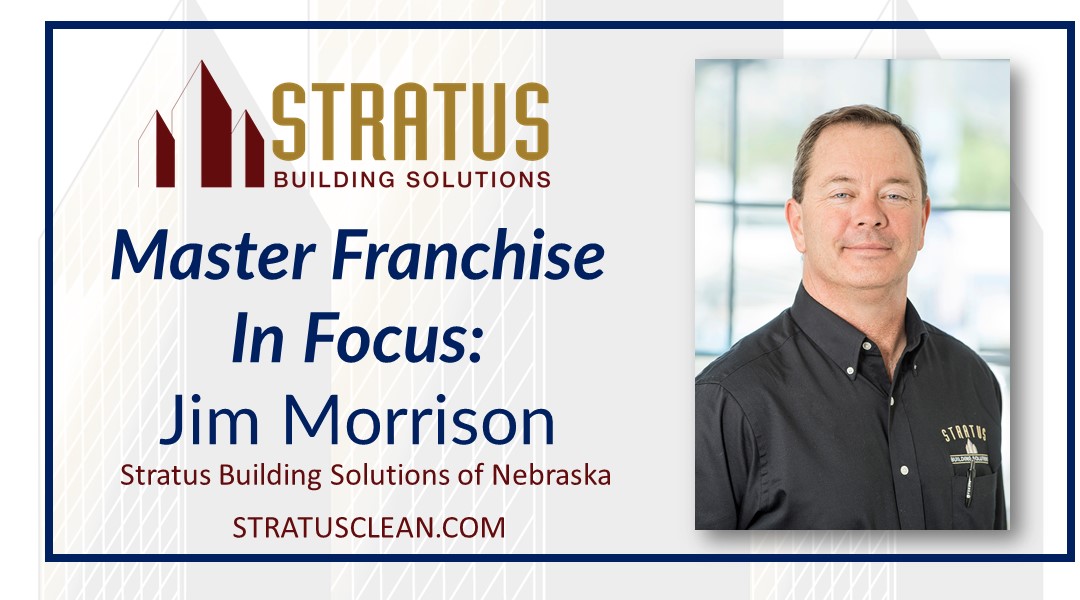 Written by
rachel
04 Jun
Category:
"Opportunities are like sunrises. If you wait too long, you miss them." That quote from writer William Arthur Ward almost proved true for Jim Morrison, Vice President of National Account Sales and Omaha-based master franchisee partner for Stratus Building Solutions, the nation's leading green commercial cleaning and janitorial services franchise.
Morrison has been with Stratus Building Solutions for nine years. The Nebraska native came to the company with a little bit of apprehension. "Stratus Building Solutions was brand new in Omaha at the time," says Morrison. "When I sat down with the owner leading Omaha's expansion and they went into a discussion about commercial cleaning, I just shook my head. I had zero experience with the concept and even less interest in working with janitorial services."
However, his perception quickly changed when he saw the upside of commercial cleaning. As Vice President of National Account Sales, Morrison is an enthusiastic, energetic member of Stratus' committed corporate team and has helped Stratus Building Solutions grow at an unprecedented rate. Sales is in Morrison's blood. "I've been in sales for more than 30 years," Morrison says. "For 20 years, I worked in sales management in telecom and information technology recruiting."
The career change for Morrison, like many other Americans, took place when the Great Recession of 2008 reared its ugly head. "I was doing recruiting and consulting when the recession in 2008 and 2009 hit," Morrison recalls. "The market just evaporated. My plan was to find a start-up, put together their sales efforts, circle back in a year once the economy rebounded and go back to what I was doing."
It was during that period of uncertainty, where Morrison met with the Stratus Building Solutions owner in Omaha. "He described the franchise model, and the more he explained, the more I was engaged," says Morrison. "I was supposed to be there for six months. Four months in, I was asking for a full-time position."
Morrison was sold on Stratus Building Solutions. Soon afterwards, in collaboration with Channen Smith, a multi-unit Stratus Building Solutions master franchisee who owns the Omaha region, Morrison became an Omaha partner.   They have since added Joe Gallegos as a partner to their fantastic Omaha team.
"Omaha recognizes when there is a company that not only wants to do well, but is working hard to do well," Morrison says. "The people in the city support and embrace an entrepreneur's drive to be successful. For those who have never been, take a visit to Omaha. It's a community that's larger than most people think, and it is home to a diverse array of industries and citizens."
Many of those businesses rely on Stratus Building Solutions to keep their employees healthy and facilities clean. "Our clients include several dealerships, including a local Harley Davidson outlet, Caterpillar, and a large medical system," says Morrison. "We also have long-term relationships with community churches and multiple apartment complexes we've known for nine years."
Morrison says his clients know they can count on Stratus Building Solutions' accountability. "Our retention rate month over month is at 98 percent," he says. He adds the company's ability to respond to customer requests also differentiates Stratus Building Solutions to competitors. "We don't say every clean is going to be perfect. We make mistakes, but we're consistent and swift with customer service. In the instances we do make a mistake, we respond quickly to those concerns."
Morrison is certainly proud of the work he has accomplished in nine short years at Stratus Building Solutions. "When I was first promoted to the corporate office, I called the love of my life (Deb) and she was overjoyed," Morrison says. "She told me I had earned this, and I'd like to think she was right. I spent four years running a region, which at times was challenging, but we managed to help build the company at a decent clip. The promotion made me realize how much time had passed by so quickly and what an opportunity this has been."
Are you in search of a similar business ownership experience as Jim Morrison?   Does the Stratus Building Solutions franchise opportunity sound like it could be for you?   If so, learn more at http://www.stratusclean.com/.