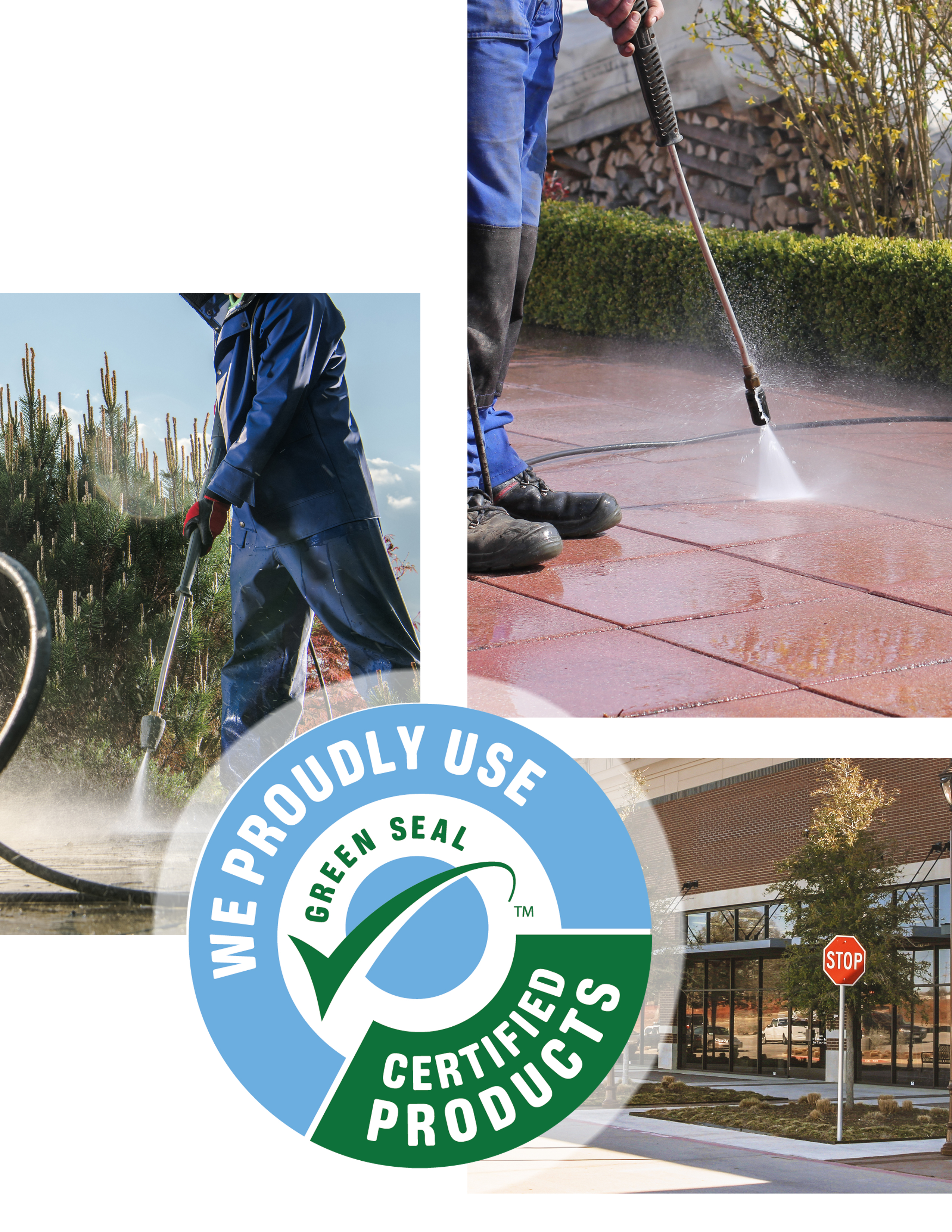 Commercial Pressure Washing Services
Stratus Building Solutions provides commercial pressure washing services that take the pressure off of you! Whether you want to remove graffiti, eliminate mildew, or simply keep your business's exteriors clean, your local Stratus franchise has the knowledge and equipment to expertly care for your building environment, including walls, statuary, parking lots, walkways, roofs, and gutters.
Thorough Pressure Washing Services to Remove Soils of all Types
Whatever type of exterior building cleaning your business requires, we will provide effective and thorough cleaning. Our pressure washing services include:
• Surface preparation
• General cleaning
• Facade cleaning
• Degreasing
• Sanitizing
• Gutter cleaning
• Substance disposal
Your local Stratus franchise can safely remove virtually any type of substance. Count on us to eliminate soils that include:
• Animal and bird droppings
• Oil and industrial liquids
• Chewing gum
• Paint and varnishes
• Mold, moss, mildew, and plant growth
• Rubber
• Crayon, indelible markers, and inks
• Rust and corrosion
• Dirt, dust, and environmental debris
• Smoke stains
• Glue and sealants
• Tar
 
Different buildings and messes require different levels of pressure washing. Whatever type of pressure cleaning your business requires, we have the skills and tools to meet your needs. Your local Stratus Building Solutions franchisee and their staff operate modern, portable equipment for:
• High-pressure industrial cleaning (6000psl)
• Steam cleaning
• Low-pressure industrial cleaning (90psl)
• Telescopic washer lancing
• Rotary cleaning
• Water broom
Make a Great First Impression with Our Pressure Washing Services
Your exterior is the first thing visitors see when they visit your business, so it is important to make a great first impression. To give your building a fresh, new look, call Stratus Building Solutions today to discuss affordable pressure washing options! We can also provide you with a wide range of other services to ensure your operation looks great, including window washing, carpet cleaning, hard floor care, and more.
Customized Services
Small offices to large facilities, Stratus has you covered.
Environmentally Friendly
Green Seal Certified chemicals and green processes are our standard.
Disinfecting Services
Stratus is here to help with your emergency and recurring needs.
Latest in Cleaning Technology
Cutting edge tools and processes assure the highest level of clean.