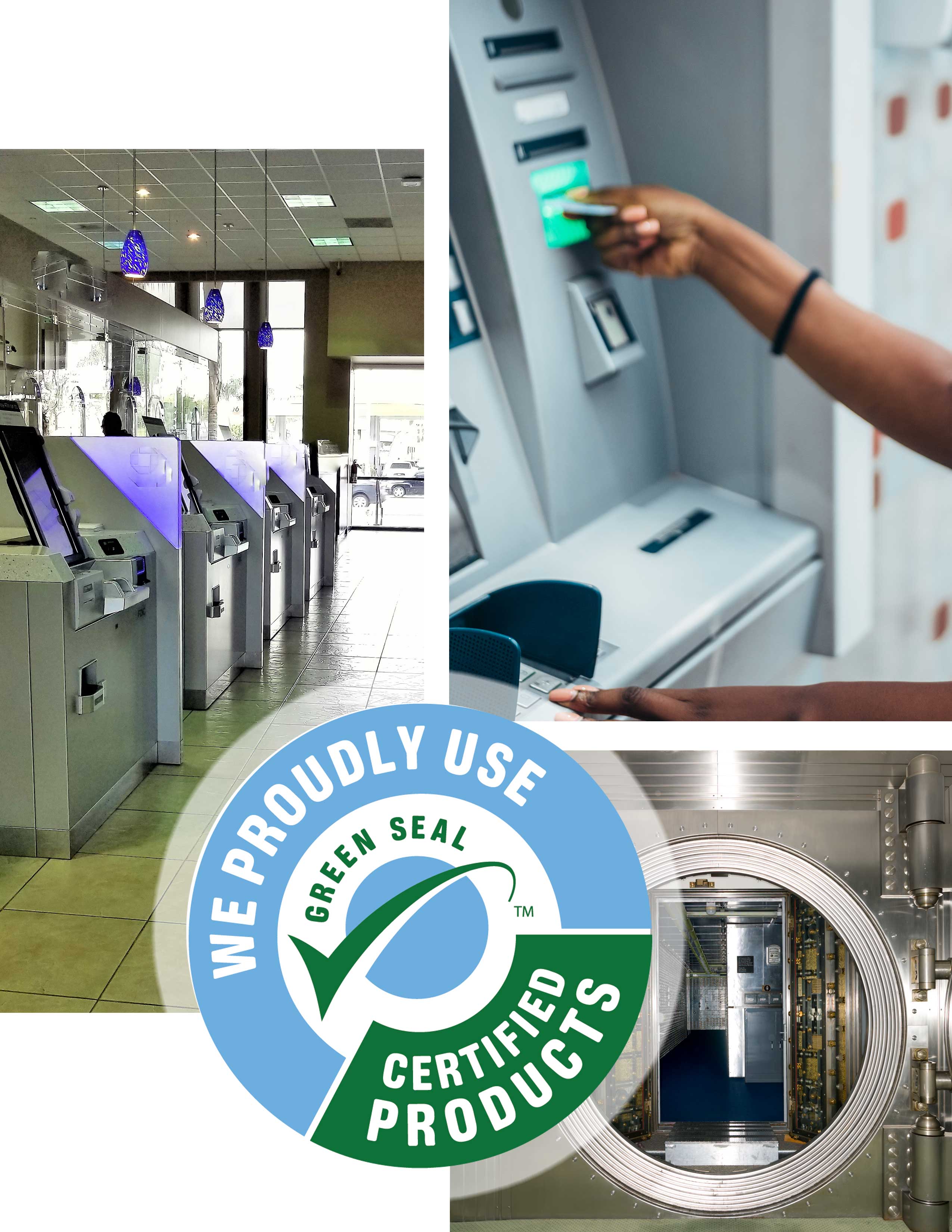 Customized Commercial Cleaning Services for Banks
Nothing is more important to Stratus franchisees than the security and safety of our clients, and this becomes particularly important when it comes to our bank cleaning services. We are able to customize our janitorial service processes and procedures as much as needed by our Banking clients. From strict schedules, holding special codes and keys to background checks - your local Stratus Building Solutions franchisees can adapt to all of your institution's particular needs.
Stratus franchisees take pride in our multi-level and professional security efforts for providing bank cleaning services. From background checks, proper vetting, and mandatory identification and uniforms - there will never be a question who is providing commercial cleaning services to your institution.
The Details. Our clients define what a great commercial cleaning service is and this always includes attention to details, big and small. We guarantee your marble floors, desks and kiosks will all be spotless for your clients' arrival the next day.
 
Keeping Your Institution Healthy. Our state-of-the-art janitorial service chemicals and processes all focus on eliminating dirt, viruses, bacteria, and harsh chemicals to keep your employees and customers safe every day!
 
Bank Sanitizing and Disinfecting Services. Do you have a lot of traffic to your lobby, waiting areas or restrooms? Stratus Building Solutions' Sani-Spritz, UV-C Sanitation Wand, and electric/electrostatic disinfecting systems can be used in high traffic and hard to reach areas for an extra level of janitorial cleaning service.
 
Stratus Green Clean Comes Standard. Looking to meet the demand of your consumers by becoming green? Stratus franchisees make it that much easier and affordable. All of our commercial cleaning services come with our commitment to health and the environment and we offer all at no additional charge to you.
 
Professionalism and Reliability. Never lose another night's sleep wondering if the doors are locked or the alarm was turned on; Uniformed, badged and with an aptitude for security, you can assure that your facility is safe and maintains a professional image when receiving cleaning services from Stratus franchisees.
 
Fully Insured. All of Stratus Building Solutions franchisees and their employees are all covered by our Workers Compensation, Liability and Bond insurances.
 
Guaranteed Quality. Five-star quality janitorial service is never negotiable. We visit your institutions and evaluate the quality of our cleans on a 50 point, 5-star rated system. If 5-star quality is not being met, we will correct the issues on your behalf, every time.
Customized Services
Small offices to large facilities, Stratus has you covered.
Environmentally Friendly
Green Seal Certified chemicals and green processes are our standard.
Disinfecting Services
Stratus is here to help with your emergency and recurring needs.
Latest in Cleaning Technology
Cutting edge tools and processes assure the highest level of clean.