DO YOU NEED A


Commercial Cleaning Service
That Can Meet All Your Business Needs?

The Stratus Difference
Excellence in Commercial Cleaning and Disinfecting Services
Provide a Healthier Environment for Your Customers and Employees With Commercial Cleaning & Disinfecting Services from Stratus Unit Franchisees
High-Quality Commercial Janitorial Services
Stratus Building Solutions is leading the way in health and environmentally conscious commercial cleaning services provided by expert-level franchisees. Our innovative commercial cleaning company provides businesses like yours with the most comprehensive green janitorial services in the industry, allowing you to provide a healthier environment for your customers and employees.
Our franchisees use 100% post-consumer recycled janitorial utility cans and mop buckets. Additionally, our franchisees are Green Seal Certified, using an environmentally responsible, health-conscious line of non-toxic and biodegradable chemicals.
Contact your local office to schedule a free, no-obligation green commercial cleaning quote today to see how Stratus can make your business a healthier place to be.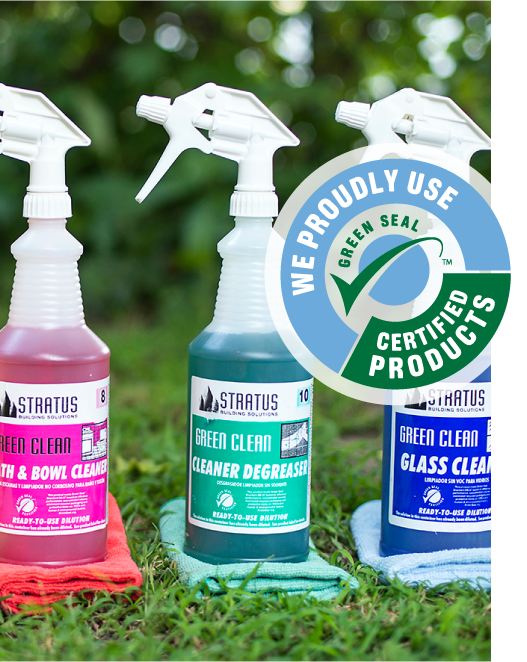 The janitorial services industry is flourishing, and for aspiring entrepreneurs, it presents a…read more
Make a positive impression on employees and visitors and ensure a healthy and productive workplace…read more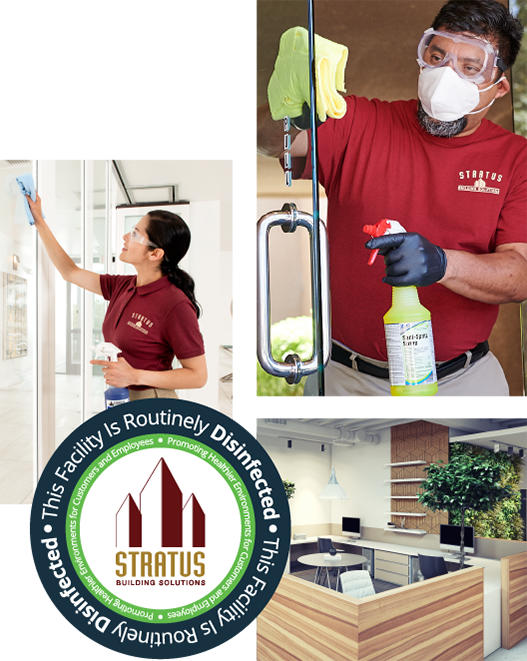 World-Class Green Commercial Cleaning
Stratus offers world-class commercial office cleaning and commercial janitorial services that meet the specific needs of your business. By analyzing your office space or facility, we identify your specific cleaning needs. After this, we can customize a range of janitorial services to fit your unique cleaning requirements, including providing eco-friendly, accredited green commercial cleaning procedures, and the use of Green Seal Certified chemicals. No other janitorial company offers this level of customization at our low rates!
As our standard, Stratus offers environmentally responsible, LEED-compliant janitorial services with state-of-the-art cleaning equipment using UV-C light, allergy-reducing HEPA filters, microfibers to reduce chemical use and waste, and Green Seal Certified, biodegradable, non-toxic, no-VOC Stratus Green Clean chemicals, and low-VOC disinfectants. Stratus Building Solutions is second to none in green and environmentally friendly commercial cleaning and the pursuance of cleaning for health.
From small offices or a large manufacturing facility, Stratus cleans them all. Contact your local Stratus Building Solutions to schedule a free quote on commercial cleaning for your facility.
Cleaning Company Offering Professionalism, Quality, And Reliability
With a heritage of over 18 years of experience in commercial cleaning and janitorial services on a national level, Stratus Building Solutions commits to quality and customer service that is unmatched in the industry. Our commercial cleaning company boasts:
Franchise-backed small business owners
Consistent quality audits based on a 50-point system
Monthly customer satisfaction reviews
Extensive training/certification programs
Uniformed janitors with photo identification
24/7 customer service
Contact your local office to schedule a free, no-obligation green commercial cleaning quote today to see how Stratus can make your business a healthier place to be.
---
Call us today and receive a free quote on customized janitorial services
---