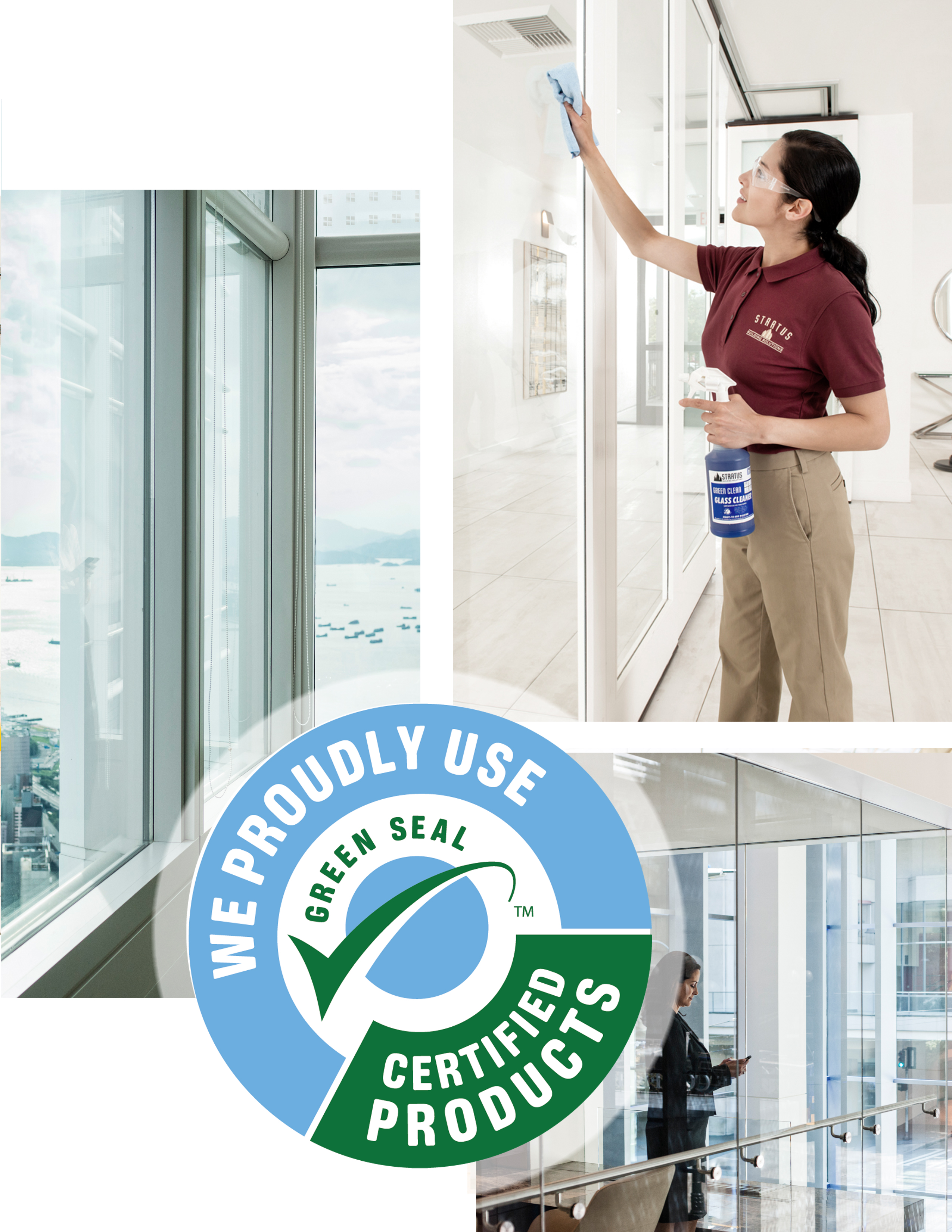 Commercial Window Cleaning Services
Dirty windows are not only an eyesore, but they reduce the amount of light that can come into a room from the outside. Clean windows are very apparent to anyone entering a room or facility, and this is especially true when the window area is large like grand lobbies or display areas. Don't allow dirty windows to create a poor public image for your business! Your local Stratus Building Solutions franchise is here to help you make your image sparkle.
As a part of our special cleaning services menu, window washing for your facility can be provided as an add-on to your routine janitorial services contract, or as an independent, one-time service. We are equipped with the best window cleaning tools in the janitorial services industry and the only branded Green Seal Certified glass cleaner, so no indoor or outdoor window will be overlooked.
Windows That Shine Both Outside and Inside
Stratus provides window cleaning services for both the interior and exterior of your building. Count on us for:
• Outdoor window cleaning services: Your local Stratus franchise provides outdoor window care for a multitude of different businesses, from retail and recreational to corporate and medical. Do you have something on display that you want to ensure makes a great first impression? Our expert cleaners will make sure it is done right the first time!
• Indoor window and mirror care: Many buildings and facilities feature indoor windows and mirrors to increase the functionality or ambient lighting available. Make sure you make a dramatic statement with sparkling clean windows in your lobbies, shopping center, meeting rooms, and more! Stratus Building Solutions franchisees provide window cleaning services to help you show off that extra spotless and streak-free appearance you are looking for.
Professionalism, Quality, and Reliability
With a heritage of over 30 years of experience in commercial cleaning and janitorial services, Stratus Building Solutions is proud to uphold a commitment to quality and customer service is unmatched in the industry. When you enlist our services, you can expect:
• Services provided by franchise-backed small business owners
• Consistent quality audits based on a 50-point system
• Monthly customer satisfaction reviews 
• Employees backed by extensive training and certification programs
• Uniformed janitors with photo identification
•24/7 Customer Service
Whatever type of cleaning services your business needs, your local Stratus franchisee will create a custom plan. Contact us today to get started so your facility can be clean, safe, and beautiful!
Customized Services
Small offices to large facilities, Stratus has you covered.
Environmentally Friendly
Green Seal Certified chemicals and green processes are our standard.
Disinfecting Services
Stratus is here to help with your emergency and recurring needs.
Latest in Cleaning Technology
Cutting edge tools and processes assure the highest level of clean.