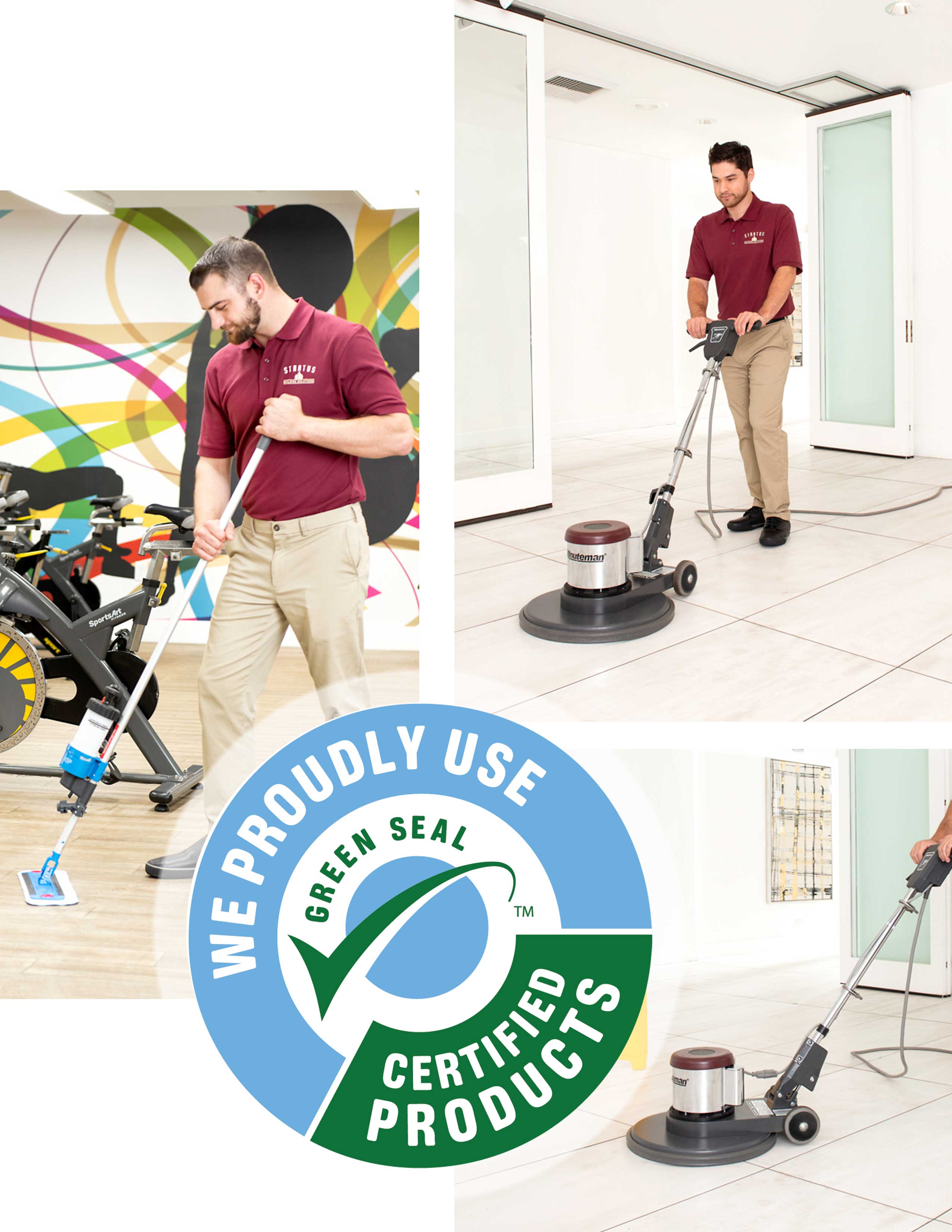 Deep Commercial Floor Cleaning Services
At Stratus Building Solutions, it is our mission to provide innovative cleaning solutions for hard floors, including difficult tile and grout surfaces and high gloss, slip-resistant strip and wax services for vinyl, concrete, tile (VCT), and marble floors. We offer deep commercial floor cleaning services to ensure your floors look beautiful and are maintained for longevity. 
Your facility's flooring surfaces see plenty of traffic and is subject to tough wear and can be easily damaged. Most flooring is protected with several thin coats of polymer or wax finish, providing a glossy, reflective coating that can be enhanced or restored with mechanical buffing. This film can wear out with time. However, you can maintain the coating and the floor surface underneath to enhance its beauty with Stratus Building Solutions' professional hard floor cleaning services. Count on our team to learn how to deep clean vinyl floors, tile floors, and more. Whether you use our services just once a quarter, or you would like to add these services to your regular contract - we can provide what you need, when you need it!
Customized Services
Small offices to large facilities, Stratus has you covered.
Environmentally Friendly
Green Seal Certified chemicals and green processes are our standard.
Disinfecting Services
Stratus is here to help with your emergency and recurring needs.
Latest in Cleaning Technology
Cutting edge tools and processes assure the highest level of clean.
Stripping and Waxing / Finishing
We use fast-acting, deep, penetrating chemicals that loosen and remove the old finish and prepare the floor for recoating. Stratus always provides the greenest services available to assure a deep clean. After stripping, we provide an expert polymer-based finish that forms a shield against traffic and soils which will make maintenance easier, to provide you with shine and beauty that becomes part of your internal décor.
Cleaning and Maintenance 
Regular cleaning enhances the appearance and increases the life of the finish. If you are contracted with us for regular cleaning services, you can expect your stripped and waxed floors to last. A clean floor is always easier to clean than a dirty one! Different areas of a facility have different levels of traffic and wear. By combining burnishing or spray buffing with a thorough cleaning, you can enhance the appearance and increase the life of the finish.
Using state-of-the-art technology, our unique cleaning methods tackle even the most difficult problem floors. Your local, highly trained experts utilize the latest equipment and products available and can solve any commercial cleaning job, leaving your floor spotless, slip-resistant, and hygienically clean.
 
At Stratus, we believe in minimizing the use of high-pressure cleaning as this can damage surfaces, strip paint or coatings and loosen grout. Instead, we utilize the industry's best equipment with unique, wash, scrub, and dry technology that uses 90% less water and detergents than traditional cleaning methods. We work greener by using less energy, less water, and fewer harsh chemicals that can damage the environment.
Delivering Effective Commercial Floor Cleaning Every Time
Quality floor services add greatly to the overall aesthetics of your facility, often the first thing a potential customer will notice. Properly maintained floors keep your facility safe by preventing slip and fall accidents. A proper floor maintenance program also extends the life of your floor products, making for a wise investment. Contact a Stratus representative today to find out how easy and affordable a commercial floor cleaner can be.