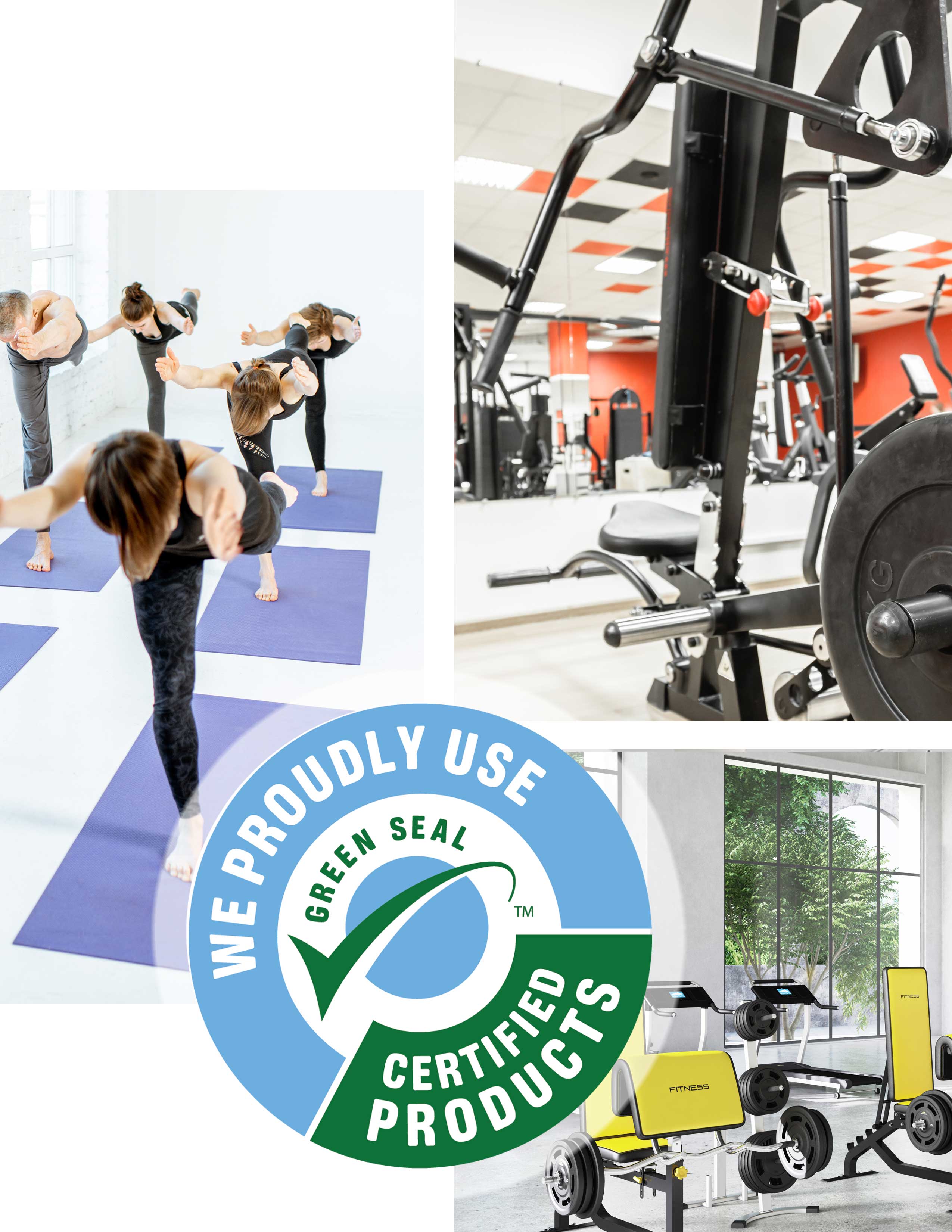 Specialized Gym Cleaning Services
Gyms and fitness centers hold a unique level of intimacy and trust with their clientele, one nearly unmatched in the retail and services space. 
With this comes certain expectations, including an expert level of cleanliness. Over the past ten years, Stratus Building Solutions has mastered this demand with its ready adoption of the latest cleaning technologies to better serve your facilities. Give your staff and members the added benefits of a green gym cleaning service that focuses on improving health and reducing indoor air pollution. Your staff and members take time to take care of themselves, and you can take improving their health one step further! 
Custom Fitness Center Cleaning
Stratus Building Solutions local franchisees service a wide range of health and fitness facilities including but not limited to health clubs, country clubs, yoga and Pilates studios, CrossFit facilities, homeowner's association gyms, large-scale gyms to intimate/niche clubs— all of which have specific needs and machinery. Stratus Building Solutions janitorial cleaning services offers customization to fit the unique requirements of each space.  Your gym cleaning checklist may look something like this: 
Dust furnishings and fixtures
Clean welcome mats
Clean windows and doors
Polish fixtures
Clean wall mirrors
Clean and sanitize equipment
Sweep exercise areas
Clean and disinfect mats
Sweep, mop, and/or vacuum all floors
Clean and sanitize lockers, benches, and high-touch surfaces
Disinfect bathrooms and showers
Empty trash
Clean office spaces

A Clean Fit
What defines a great commercial gym cleaning service is their attention to detail. Stratus Building Solutions franchisees have an extensive certification program which speaks to exactly that. Workout spaces, equipment rooms. restrooms, high use areas, equipment, water stations - not a detail is overlooked.
Maintaining Your Satisfaction and Your Customers'
This is our priority. Our signature janitorial cleaning service processes which range from preventing cross-contamination to reducing indoor air pollution with state-of-the-art janitorial service chemicals and materials all focus on eliminating harmful germs, bacteria, spores, and harsh chemicals to keep your clients and staff happy and healthy.
 
Gym Disinfecting Services When You Need Them. 
Stratus Building Solutions' hospital-grade Sani-Spritz, UV-C Sanitation Wand or electrostatic disinfecting services can be included in your gym cleaning service, gym disinfecting includes high traffic areas, locker rooms, restrooms, or sensitive machinery for an extra level of clean.
 
Green is the Stratus Standard
Stratus Building Solutions makes it that much easier and affordable to keep your gym or fitness center green and healthy. Our green gym cleaning services come with our commitment to health and the environment, from using our certified green chemicals, efficient microfiber towels, HEPA filtration vacuums, 100% post-consumer recycled tools and materials - we offer all at no additional charge to you.
 
Professionalism, Always
Uniformed, badged and with an aptitude for the most effective clean, you can assure that your facility is safe and ready for you when you return the next day.
Customized Services
Small offices to large facilities, Stratus has you covered.
Environmentally Friendly
Green Seal Certified chemicals and green processes are our standard.
Disinfecting Services
Stratus is here to help with your emergency and recurring needs.
Latest in Cleaning Technology
Cutting edge tools and processes assure the highest level of clean.