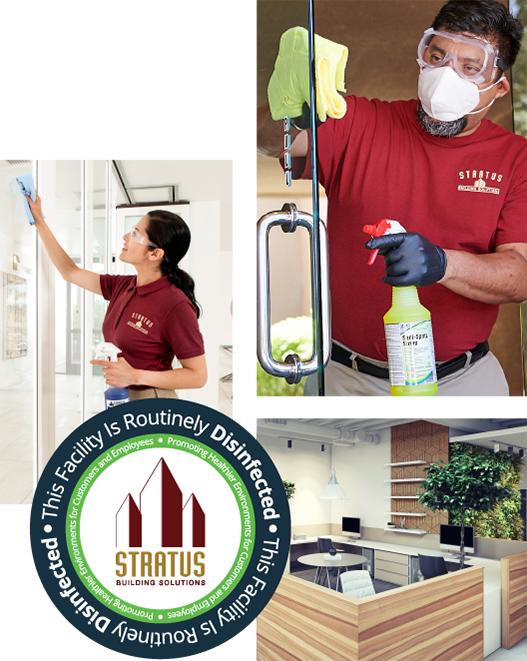 Detailed Commercial Cleaning and Sanitizing Services
Foster a clean and hygienic environment for your customers, employees, and guests with the help of Stratus Building Solutions. Your dedicated Stratus franchisees proudly provide dependable commercial cleaning and sanitizing services to achieve an unparalleled clean. Using an approach that pairs skills and experience with the right cleaning chemicals and equipment, each Stratus franchisee caters to the specific needs of your business. Get in touch with us to request a quote on your services!
Reliable Commercial Disinfecting Services and Techniques
Stratus Building Solutions, in partnership with companies like Nyco and ProKure1, provide state-of-the-art professional disinfection services that include thorough sanitizing and deep cleaning. Stratus franchisees and their staff undergo specialized training to ensure the highest standards. As part of the Stratus approach, your business is cleaned using hospital-grade chemicals along with high touch-point wipe downs. The deep cleaning techniques employed by your Stratus crew involve the implementation of color-coded micro-fibers to dispel cross contamination, so you can feel confident in the results. 
Disinfecting and Sanitizing Cleaning Services for All Facilities
Sanitization goes beyond how your facility looks. It takes your clean to the next level by eliminating the threats you can't see. Prevent the spread of germs, viruses, and bacteria with commercial disinfection services.
When it comes to protecting your patients, visitors, or customers, you can never be too careful. Professional disinfecting services are ideal for high-traffic facilities, or those who provide services to sensitive populations like clinics and hospitals. 
An assortment of facilities benefit from these sanitizing cleaning services, including: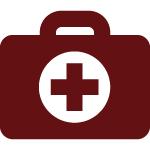 Disinfecting Services

Sanitizing Services

Deep Cleaning

Hospital Grade Disinfectants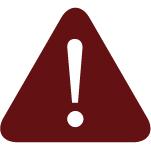 High-Touch Point Area Focus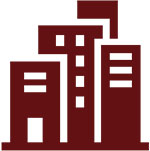 Facility Specific Services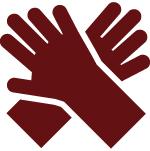 Recurring Services Available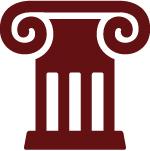 OSHA, CDC and EPA Compliant
Our State-of-the-Art Partners:
Sani-Spritz by Nyco
Sani-Spritz Spray is a one-step disinfection cleaner that is effective against a broad spectrum of bacteria, viruses, and inhibits the growth of mold/mildew and their odors. Sani-Spritz Spray has been formulated to aid disinfecting service providers in the reduction of cross-contamination in hospitals, schools, offices, and industrial centers. 
Hospital-grade disinfecting

Use on hard, porous and soft surfaces

Cleans, disinfects and deodorizes in one step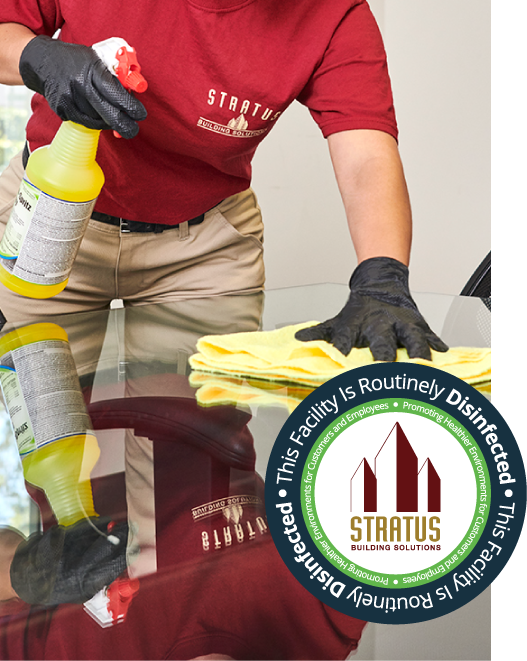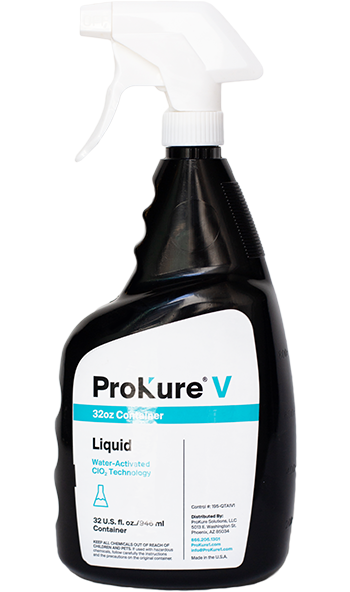 ProKure1
ProKure is the only patented chlorine dioxide (ClO2) system designed for disinfecting cleaning services. Not another bleach or harsh chemical, this fast-working, easy disinfection system delivers superior odor and pathogen control on any size job, anywhere. Provides odor control and disinfecting services without heavy equipment.
Made in the U.S.A.
Hospital-grade disinfection and faster deodorization
Safe for people and materials, dye and fragrance-free
OMRI and EPA registered
Request a Quote for Your Custom Cleaning Services
At Stratus Building Solutions, we customize our services to meet your needs. Whether you need a one-time special or recurring commercial disinfecting services, we have you covered. Contact us to request a no-obligation quote for the precise cleaning services that benefit your business or organization. 
 
Customized Services
Small offices to large facilities, Stratus has you covered.
Environmentally Friendly
Green Seal Certified chemicals and green processes are our standard.
Disinfecting Services
Stratus is here to help with your emergency and recurring needs.
Latest in Cleaning Technology
Cutting edge tools and processes assure the highest level of clean.