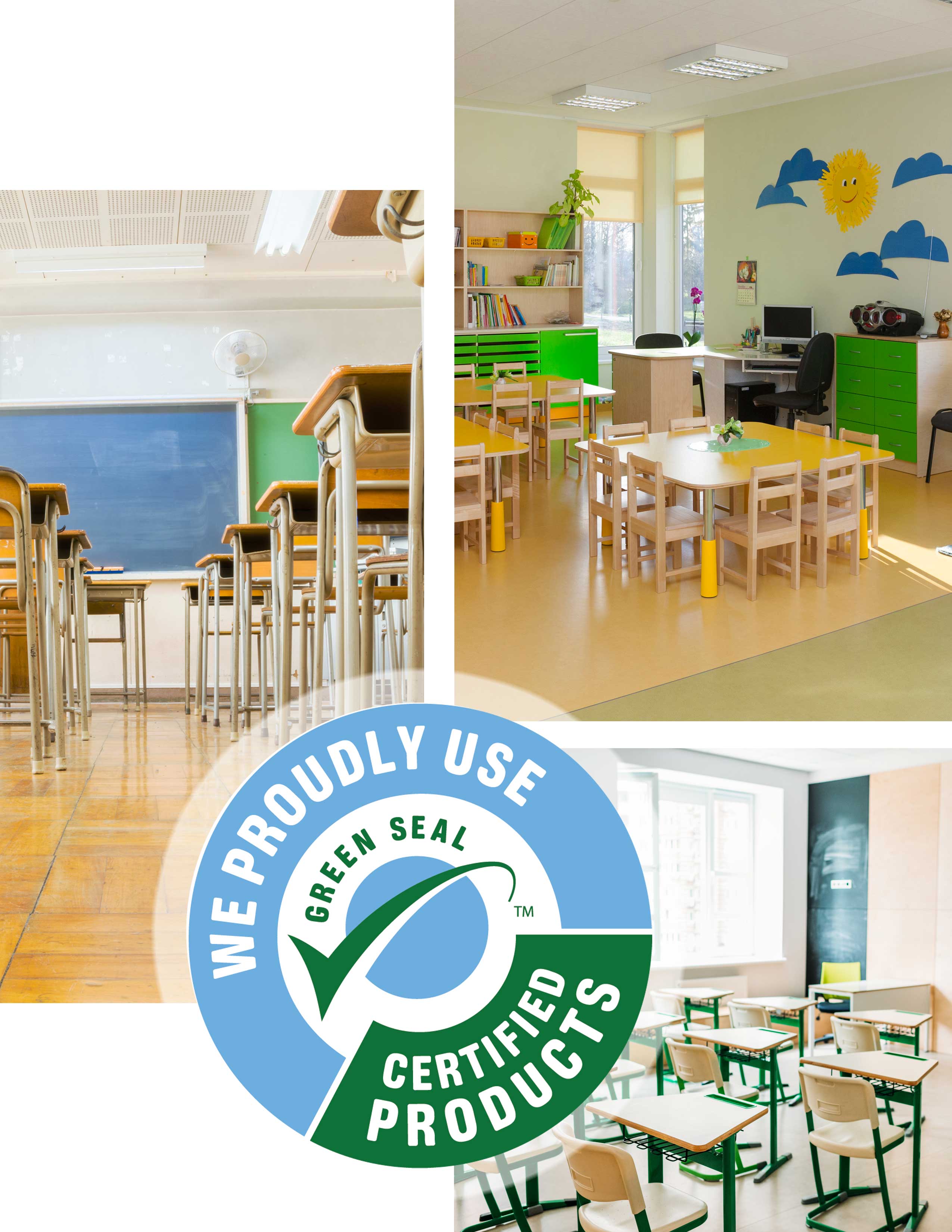 Specialized School Cleaning Services
Schools and universities share some of the most rewarding experiences for staff, students, and parents alike, but are also responsible for the health and well-being of large numbers of students on any given day. School cleaning services and school disinfecting services from Stratus franchisees assure that everyone from staff to students remains healthy. 
Our signature school cleaning services range from preventing cross-contamination to reducing indoor air pollution with state-of-the-art chemicals and materials. Our franchisee team eliminates harmful germs, bacteria, spores, and harsh chemicals to keep your staff and students of all ages safe.
The Stratus Commitment to Green Cleaning
More than a decade ago, Stratus franchisees made green cleaning our standard. At each of our nationwide franchises, our Stratus Building Solutions franchisees combine our full line of branded, Green Seal Certified cleaning chemicals and scalable school and preschool cleaning services. This gives your school the highest quality level of clean without leaving the residue or smells of harsh toxins.
Our school cleaning services come with our commitment to health and the environment. Our franchisees use our certified green chemicals, efficient microfiber towels, HEPA filtration vacuums, and 100% post-consumer recycled tools and materials—all at no additional charge to you.
A Detailed Approach To Custom School Cleaning Services
Attention to detail defines a great cleaning service. Restrooms, high traffic floor areas, locker rooms, desks, shelving, and everything in between: no detail in your facility is overlooked when you work with Stratus Building Solutions.
You have enough to worry about running a school with countless students, staff, and visitors filing in and out each day. Our job is to help you create a healthy environment so your students and faculty can focus on quality education. 
Whether you need a deep clean before or after a school event, or you want more regular janitorial school cleaning solutions, we're happy to create a cleaning plan that works for your facility's needs and schedule. Contact the Stratus franchisees and team today to get started.
Customized Services
Small offices to large facilities, Stratus has you covered.
Environmentally Friendly
Green Seal Certified chemicals and green processes are our standard.
Disinfecting Services
Stratus is here to help with your emergency and recurring needs.
Latest in Cleaning Technology
Cutting edge tools and processes assure the highest level of clean.