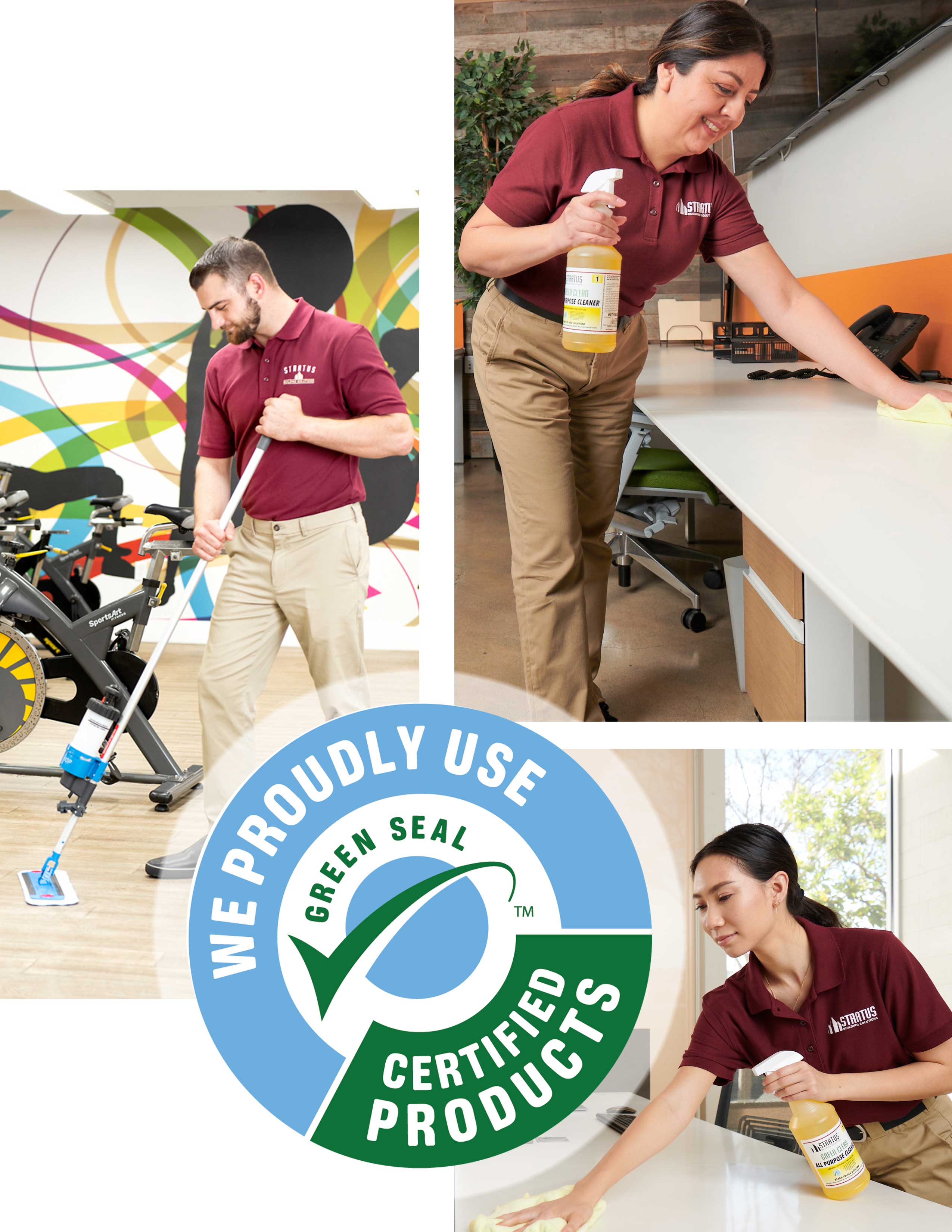 Day Porter Cleaning Services When You Need It Most
Ensure you are providing the safest environment possible for your customers and employees with day porter cleaning services from Stratus Building Solutions franchisees. Our franchise approach provides your facility with a highly committed, experienced, certified, and professional work staff who look forward to exceeding your expectations. Our franchisees serve clients with specific attention to their detailed needs, with an overall goal of true customer satisfaction. Whether your facility is a demanding, high-traffic environment or a small, low-traffic facility, our franchisees customize the right program with the right people to meet your needs.
Stratus Building Solutions franchisees' disinfecting and janitorial services are customizable and are created to work with your schedule. We don't believe in a "cookie-cutter approach" to your cleaning requirements, so our franchisees can customize every program to fit your specific goals. Contract a day porter service with Stratus franchise & staff and your commercial building will be taken care of. Your local franchisee and staff focus on the high touchpoint and communal break areas of your business, including door handles, elevator buttons, restrooms, breakrooms, dining tables, and more.
Customized Services
Small offices to large facilities, Stratus has you covered.
Environmentally Friendly
Green Seal Certified chemicals and green processes are our standard.
Disinfecting Services
Stratus is here to help with your emergency and recurring needs.
Latest in Cleaning Technology
Cutting edge tools and processes assure the highest level of clean.
Spotless & Hygienic All-Day Cleaning Services
The cleanliness of your business is no longer a luxury, it's a necessity. Additionally, tidy and hygienic businesses leave a positive impression on building occupants. Day porter services provided by Stratus Building Solutions franchisees can assure you are being as proactive as possible to help keep your customers and employees safe, and they will take note. 
The Leading Provider of Green Commercial Day Porter Services 
Stratus Building Solutions franchisees & staff provide businesses like yours with the most comprehensive green cleaning options in the industry. Our franchisees use 100% post-consumer recycled janitorial utility cans and mop buckets. Additionally, our franchisees are Green Seal Certified, using an environmentally responsible, health-conscious line of chemicals that are non-toxic and biodegradable.
Get Started 
Your business deserves to be presentable and clean. Contact our Stratus Building Solutions franchisees to schedule your free quote for high-quality and thorough commercial janitorial services. Our franchisees look forward to working with you!