Make a positive impression on employees and visitors and ensure a healthy and productive workplace with sparkling restrooms. A clean and well-maintained office bathroom reflects your company's commitment to hygiene and professionalism. However, the task of keeping your office bathroom in top condition can be quite a challenge. That's where commercial cleaning companies, like Stratus Building Solutions, come into play. In this guide, we'll provide you with some fundamental tips on how to clean an office bathroom efficiently and introduce you to the expert assistance Stratus can offer.
Gather Your Supplies: Before you start cleaning, make sure you have all the necessary supplies ready. You'll need cleaning agents, disinfectants, scrub brushes, microfiber cloths, mop and bucket, and disposable gloves. Having everything at your fingertips will save you time and ensure a smoother cleaning process.
Develop a Cleaning Routine: Consistency is critical when it comes to maintaining a clean office bathroom. Create a cleaning schedule that suits your office's foot traffic and ensures regular maintenance. A well-thought-out routine will prevent the buildup of dirt and grime.
 
Declutter and Organize: Before you dive into cleaning, declutter the space. Remove unnecessary items, empty the trash cans, and tidy the countertops. An organized bathroom is easier to clean and gives a more professional vibe.
 
Address High-Touch Surfaces: High-touch surfaces such as doorknobs, faucets, light switches, and toilet flush handles are hotspots for germs. Use disinfectant wipes to thoroughly clean and disinfect these areas. Regular disinfection is crucial in maintaining a hygienic restroom.
 
Scrub and Sanitize: Clean toilets, sinks, and countertops with appropriate cleaning agents. Pay close attention to grout lines, which can trap dirt and mold. A scrub brush can help remove stubborn stains. After cleaning, use a disinfectant to kill any remaining germs.
 
Care for the Floor: Mop the floor with a disinfectant solution, paying extra attention to areas around urinals and toilets. This will ensure the floor remains both clean and safe.
 
Clean Mirrors and Glass: Wipe down mirrors and glass surfaces with a glass cleaner for a streak-free shine. Smudged or streaky mirrors can give a negative impression.
 
Refill Supplies: Check and replenish supplies such as hand soap, toilet paper, and paper towels. An empty soap dispenser or an absence of toilet paper is inconvenient and reflects poorly on your office.
 
Add Air Fresheners: Invest in air fresheners or odor-control solutions to keep the restroom smelling pleasant. A fresh-smelling bathroom contributes to a more positive experience for users.
 
Trust Stratus Building Solutions: Cleaning an office bathroom efficiently requires time and dedication. It's a task best handled by professionals who understand the nuances of maintaining a sanitary workplace. Stratus Building Solutions, a leading name in commercial cleaning, offers expert janitorial services to ensure your office bathroom is consistently clean, safe, and welcoming. With a team of highly-trained professionals and a commitment to the highest cleaning standards, Stratus can take the burden of restroom maintenance off your shoulders. By relying on their expertise, you can rest assured that your office bathroom will always be a clean and inviting space for employees and visitors alike.
 
While following these cleaning tips can help you maintain your office bathroom efficiently, partnering with Stratus Building Solutions ensures that your restroom is in the hands of experienced professionals who understand the necessary details of maintaining cleanliness in your business.
---
About the Author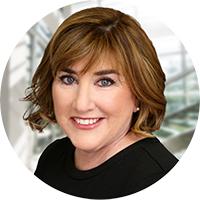 Maureen DiStefano, the Vice President of Operations at Stratus Building Solutions, is a seasoned franchise executive with over 20 years of experience with several national brands. She began her career at the ARAMARK Corporation and moved on to leadership roles in operations & development with the Delaware North Company, Popeyes Chicken, Dunkin' Brands/ Inspire, and Starbucks. Most recently, Maureen served as Vice President US & Canada Store Operations with the well-known GNC brand (General Nutrition Company). Maureen understands franchisees are the champions of the company, and as a franchisor, we need to provide support and the tools to succeed. Operating this way ensures everyone wins. Her dedication to building high-performing teams has led to record results.