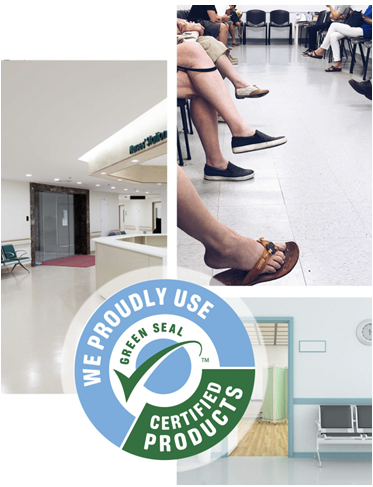 Medical Cleaning Services in New Orleans
You take every care and precaution to ensure the health and safety of your patients, whether your facility is an urgent care center, a specialized clinic, a non-profit, or a hospital. At Stratus Building Solutions, we aim to take the stress out of maintaining a clean environment so that you can continue to focus on treating those in your care. We don't just offer the basics, we apply years of experience and specialized training to provide high-quality, eco-friendly medical cleaning services in New Orleans, LA. Turn to our highly trained professionals to get the results you deserve.
Each Team Member Undergoes Specialized Training To Clean Medical Facilities
Simply wiping down surfaces is not enough, especially in the medical field. That is why we hold our staff to the highest cleaning and business standards for our medical office sanitizing services. Our team understands the difference between standard office janitorial services and the disinfection procedures required in a clinic or hospital.
Everyone who works within the scope of our health care division must obtain certification through our unique hospital and medical clinical training program. This includes training and examinations in the following categories:
Applicable OSHA / JCAHO codes
Bloodborne pathogen requirements
Hospital-grade sanitizing services
Hospital-grade cleaning and disinfecting in typical and specialized facilities
 
Request Construction Cleaning Services For Your New Medical Facility
In addition to providing routine and deep cleaning services to healthcare facilities, Stratus provides construction cleanup for new buildings. Allow us to rid your new facility of dust, debris, and allergens with our detailed and thorough construction cleanup services.
Discover A More Eco-Friendly Way To Clean
Medical facilities serve dozens of people a day, if not more, including people who may have allergies, asthma, or other breathing issues. They shouldn't be subjected to the smell of harsh cleaning chemicals. With our green cleaning solutions, they don't have to. We use a range of cleaning tools, including HEPA vacuums and UV-C sanitizing wands, to attack germs without attacking the senses.
Because our medical office cleaning services don't leave any hazardous chemicals behind, they are perfectly safe in facilities that tailor to pediatric and geriatric patients, those with breathing issues, and anyone else your clinic serves. We are happy to tailor our services to match your needs and schedule. Contact us today to request a quote or more information.