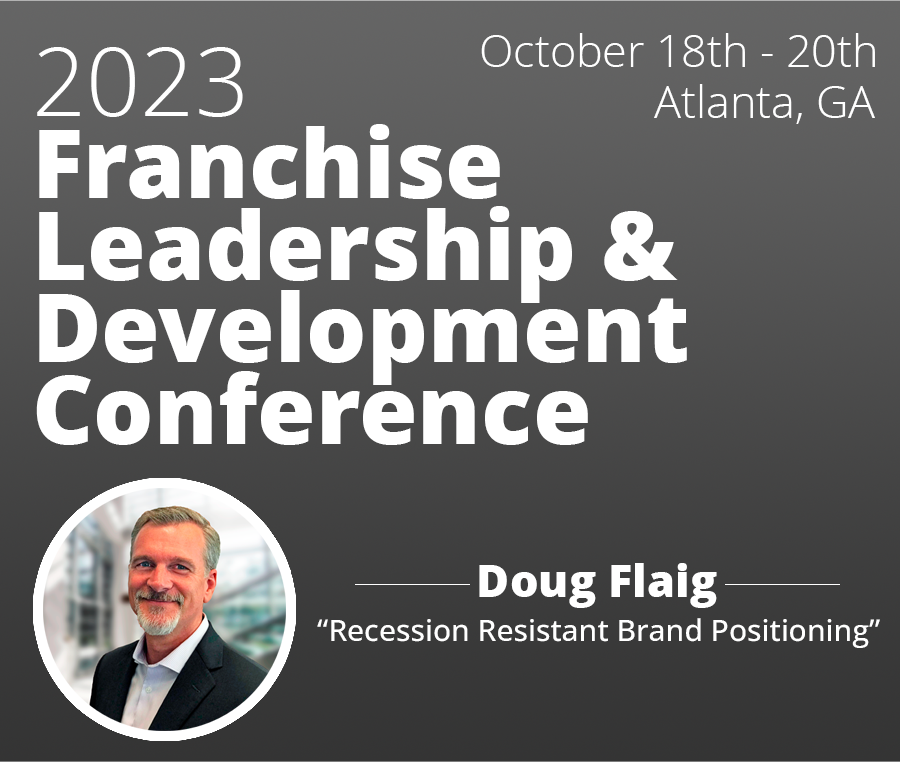 Doug Flaig to Unveil Strategies for "Recession Resistant Brand Positioning" at the Franchise Leadership and Development Conference in October 2023.
The eagerly anticipated Franchise Leadership and Development Conference in Atlanta is poised to welcome industry leader Doug Flaig, who will deliver a captivating presentation on the topic of "Recession Resistant Brand Positioning." This conference promises to be a gathering of top minds in franchising, offering invaluable insights for professionals looking to fortify their brands against economic challenges.
Doug Flaig, a respected servant leader known for his collaborative approach and an ability for assembling high-performing teams, has a storied career that spans various sectors. With a rich franchising background that includes working with iconic brands such as Dunkin' Donuts, Burger King, 7-Eleven, Wetzel's Pretzels, and Baskin-Robbins, Doug brings a wealth of experience and knowledge to the table. His journey also includes a pivotal role in a national lighting and electrical distribution company and nearly six years of leadership in the telecom industry, overseeing teams that built wireless infrastructure for major carriers.
"Recession Resistant Brand Positioning" is a topic of immense relevance in today's dynamic business landscape. Doug Flaig will draw from his extensive background to explore the strategies and tactics necessary for businesses to not only withstand economic downturns but emerge stronger from them. His presentation will emphasize the pivotal role of culture, teamwork, clear metrics, and influence in driving growth while maintaining a robust brand presence.
The Franchise Leadership and Development Conference is a premier event that brings together franchising experts, thought leaders, and professionals to explore the latest trends and innovations in the industry. Doug Flaig's presentation is expected to be a highlight of the conference, offering actionable strategies for franchisors to position their brands for enduring success.
FLDC Conference Registration
About Doug Flaig
Doug Flaig, the president of Stratus Building Solutions, is a seasoned executive renowned for his leadership in franchising, telecommunications, and wireless infrastructure development. With a forward-thinking approach to complex challenges and a track record of executing strategic tactics to achieve key objectives, Doug is a trusted advisor and speaker in the business community. His commitment to servant leadership, collaboration, and clear metrics has been instrumental in driving the growth of numerous companies.
Media Inquiries
For media inquiries and further information about Doug Flaig's presentation at the Franchise Leadership and Development Conference, please contact:
Mike Toper 
(919) 813-6511 
MToper@919Marketing.com