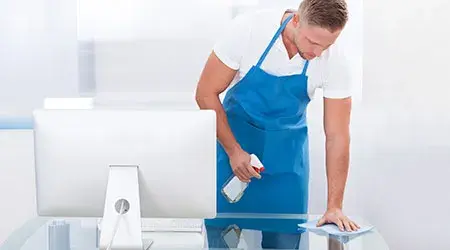 Contributed by Afshin Cangarlu, CEO of Stratus Building Solutions
At the height of the COVID-19 pandemic, office managers started looking for ways to alter the traditional office space in an effort to make it safer for people to return to work. Hybrid and co-working spaces became the norm as a way to encourage social distancing. This allowed some staff members to be in the office, while others remained at home. 
It was designed to be a temporary fix, but now, these hybrid workspaces appear to be here to stay. Some organizations have downsized their office space and are encouraging desk sharing for employees who are working alternate days. Unfortunately, this concept is creating a new breeding ground for germs.
Stratus Building Solutions, a green commercial cleaning franchise, is offering tips to help workers stay safe as they begin work in these new-look offices. 
"Our franchise offices are getting an increased number of calls to proactively clean hybrid or co-working spaces right now," says Afshin Cangarlu, CEO of Stratus Building Solutions. "This new model is a big change for workers and we are happy to provide services that help keep people healthy."
1. Make wiping the desk down with disinfecting wipes a daily habit. In a traditional office world, a person could get away with wiping the desk and keyboard down a few times a week. This should now be the first task on someone's to-do list when arriving at the office to a shared desk. Encourage building occupants to unplug everything and wipe it all down, including the keyboard and the mouse. Microbes such as the common cold can stay on a hard surface for up to 72 hours. 
2. Do not share pens. In a traditional office space, it was common to have pens in a holder on a desk. These days, people may leave pens just lying around and it could be tempting to grab the one that's there. The average office pen has 200 bacteria per square inch. It's best to encourage occupants to store clean pens in in a personal bag and be sure to sanitize regularly. 
3. Educate building occupants to not place work bags or purses on the desk once it's sanitized. A personal bag has all of the stuff needed for work and it also contains a lot of germs. It picks germs up from home, from the cab and from the floor of the office. Teach occupants that it's important to be mindful of where the bag has been before placing it on a clean desk.
4. Occupants should be told to clear away coffee mugs and other items left behind. Until people are more used to sharing desks, it may be common for a coworker to leave a coffee cup or water bottle behind. It goes without saying that these are covered in germs. Use a disinfectant wipe to move the item to another shared space before beginning work.
5. Teach occupants to clean their cell phones daily. In a shared and collaborative space, people will be picking up and putting cell phones down on desks all around the office. It's well known that cell phones have many germs. They can contain more than 25,000 bacteria per square inch. The best way to keep germs away in this new environment is to sanitize daily.
6. Encourage everyone in the facility stop and sanitize laptops, pens and notebooks at 5pm. In this new world, a person will likely not be returning to the same workspace the next day. It's important to get in a habit of sanitizing the laptop, any pens, tablets or notebooks before leaving the office to avoid bringing germs home