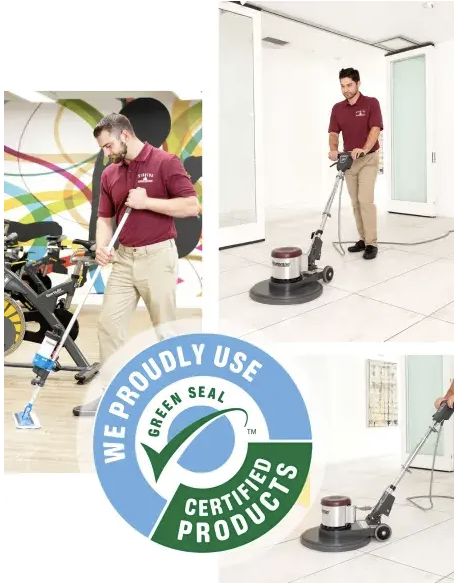 Hard Floor Cleaning Services in Sonoma, CA
Stratus Building Solutions strives to provide our customers with the latest cleaning solutions for their businesses and residential properties. Caring for and keeping hard surfaces such as wood, tile and grout, or vinyl in their best condition requires continual maintenance. With commercial floor cleaning in Sonoma, CA, our commercial cleaning company will revitalize your hard surface floors, transforming their appearance and performance.
Your hard floors endure daily wear and tear from dirt, foot traffic, and moisture, among other things, which is why it is important to strip and wax floors. To preserve the shine and strength of modern floors, thin coats of wax or polymer are often applied. Buffing combined with the correct maintenance schedule are necessary for maintaining this coat, which is where we come in. Stratus has the necessary tools to keep your floors in pristine condition on your preferred timeline.
Professional Hardwood Floor Refinishing
Our commercial floor cleaners will take care of all of your hardwood floor refinishing needs. Using powerful-yet-gentle chemicals, we will carefully remove any existing coating from the floor and then apply a premium polymer finish to shield it from everyday wear and tear, moisture, and more.
Our floor protection services don't stop at just shielding what lies beneath the covering. Not only will we keep these surfaces safe from harm, but our fresh coating will also give them a glossy sheen, adding a sparkle that further beautifies your space. We know that every part of your operation must be taken care of, and our commercial floor cleaning services will ensure that your establishment always looks its best.
Delivering an Effective Commercial Floor Cleaning Every Time
By entrusting our professionals with your hard floor cleaning services, you can rest assured that you will be satisfied with the results every time. We have the knowledge, tools, and techniques to customize our approach to your floor's material, providing an efficient and effective solution for your needs.
To protect your floor coatings, paint, and grout, we avoid using pressure cleaning methods. Instead, we deploy the best techniques in the industry to carefully wash, scrub, and dry your hard flooring surfaces. If you want to improve the condition of your floors, schedule an appointment with us today! We can also provide your business with carpet cleaning services, window cleaning, janitorial services, and more.