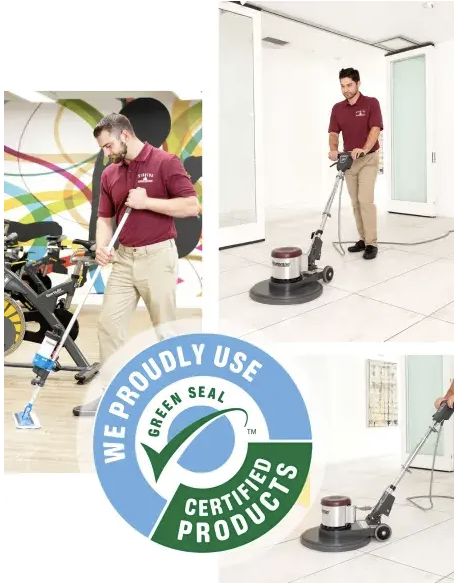 Professional Hard Floor Cleaning Services in Jacksonville
At Stratus Building Solutions, we are committed to delivering innovative cleaning solutions for every inch of our clients' commercial spaces. Beautiful, hard surface floors demand quite a bit in the way of regular cleaning and upkeep to maintain their showroom-ready look. Whether you've got solid hardwood, tile and grout surfaces, or vinyl flooring, you can count on our team for professional hard floor cleaning services in Jacksonville. Put our commercial floor cleaning team to work for you and see firsthand what we can do to elevate the look, feel, and performance of your hard surface floors.
The flooring in your workspace is continuously affected by dirt, foot traffic, moisture, and other factors that are all part of traditional wear and tear. Many modern floors make use of several thin coats of polymer or a wax finish that offer a glossy, reflective coat. This coating can be enhanced or improved with proper buffing. We have the equipment needed to keep that coating looking and performing exactly as you expect by establishing a cleaning regimen that fits your scheduling needs.
Professional Hardwood Floor Refinishing
If your finish needs retouching, we've got your needs covered. Our specialists use swift-acting chemicals designed for optimal hardwood floor stripping to thoroughly and safely remove your old floor coating. Afterward, we apply our professional-grade polymer finish to protect your floors from the effects of foot traffic, water, and other weathering elements
A protected surface isn't the only thing you'll get with our hardwood floor refinishing services. In addition to keeping what's beneath the protective coating free from harm, our new coats will make your floors shine and ultimately add to the beauty of any space in your business. Our professionals understand that giving every inch of your space the care and treatment it deserves is what matters most. By choosing our commercial floor cleaning services for your cleaning and maintenance needs, you will ensure that your premises always look their best, leading to smoother business operations.
Delivering an Effective Commercial Floor Cleaning Every Time
Opting for our professional hard floor cleaning services means you're choosing a team with the expertise you need to get ideal results every time. By applying the right tools, techniques, and technology to every situation, our commercial cleaning crew can adapt to the material differences and can establish the proper regimen that's the perfect balance of efficiency and thoroughness.
Unlike other cleaning crews, we also limit our use of pressure cleaning, which can damage floor coatings, strip paint, or loosen grout. Instead, we utilize the industry's best equipment to wash, scrub, and dry your floors as needed. See what we can do to better your floors by scheduling your first appointment today! Contact our cleaning company to keep your floors in top-notch condition.