LOS ANGELES APRIL 20, 2022
Doug Flaig Offers Insights and Expertise on the University of Louisville's Franchise U! Podcast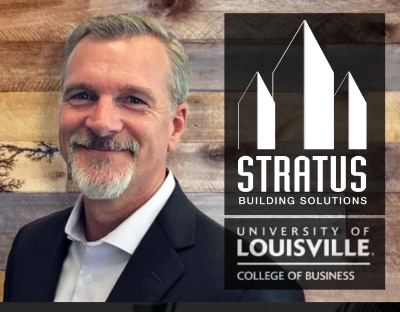 Stratus Building Solutions, the nation's leading green commercial cleaning and janitorial services franchise, is excited to share the news that President Doug Flaig was a recent guest on the University of Louisville's Franchise U! Podcast. The podcast invites top executives from major brands such as Marriott, Taco Bell, and Top Golf to discuss a variety of topics.
Hosted by Dr. Kathy Gosser, Assistant Professor of Franchise Management at the University of Louisville College of Business, Franchise U! aims to provide education and inspiration for those considering a career in franchising.
"I was so honored to get the invitation to be a guest on this great podcast," said Flaig. "Dr. Gosser has a long history in franchising and is now teaching students about the industry. She really understands what makes a brand successful and asks thoughtful questions."
The two talked extensively about Stratus' franchise opportunities which enable owners to operate as local sales and support centers. Master Franchisees across the United States and Canada help others uncover the potential of the Stratus Building Solutions Unit Franchise opportunity and choose the specific model and investment that fits their lifestyle and financial goals.
They also discussed Flaig's background in franchising which includes stops at Dunkin' Brands, 7-Eleven, and Burger King. He joined Stratus Building Solutions as president in January.
"It's been a great adventure," Flaig told Gosser during the podcast.
The episode is the 16th in the series and is 30 minutes long. You can listen to it in its entirety by clicking this link.
"This was a chance to talk to an engaged audience about what makes Stratus special," Flaig said. "It was a great conversation and I hope it's useful to students as well as potential franchise owners. I wish something like this had been around when I got into the business."
Stratus Building Solutions, currently present in approximately 60 U.S. and Canadian metropolitan locations, provides eco-friendly, customizable commercial cleaning and janitorial services to a wide range of clients, including offices, medical facilities, warehouses, schools, religious centers, gyms, retailers, and more.
About Stratus Building Solutions:
Stratus Building Solutions, an international franchise company in the commercial cleaning industry was founded in 2006 and headquartered in Los Angeles, California. Stratus provides environmentally friendly commercial cleaning services driven by dedicated, entrepreneurial, small-business owners and regional support offices. Stratus has over 2,500 Unit Franchisees in 60 major cities across the United States and Canada. Stratus is setting new standards in the building services and maintenance franchise industry by being the first to offer green janitorial products with their proprietary Green Seal Certified line of cleaning chemicals. To learn more about franchising opportunities, visit Stratus Building Solutions.