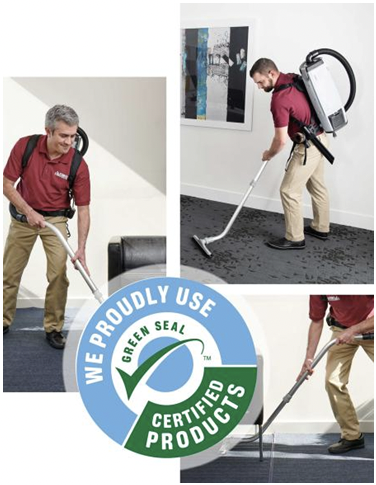 Commercial Carpet Cleaning Services in Des Moines, IA
Carpets are exposed to a lot of wear and tear, ranging from mud and dirt that is tracked inside to spills and other messes. As people move throughout your facility, dust, food, soils, and bacteria sink into your carpet, leading to deterioration of the texture and reducing the carpet's lifespan over time.
Stratus Building Solutions offers exemplary commercial carpet cleaning services in Des Moines, IA, that are designed to get carpets clean and help prolong their life. Our commercial cleaning company is offers three levels of carpet cleaning services: 
Routine Carpet Maintenance
Our regular carpet maintenance includes executing daily cleaning processes in order to remove any pollutants, protect the carpet from harm, and keep its original look. This day-to-day upkeep program comprises of:
Soil and spot prevention: We will protect your carpet from outdoor soils and stains with a regular sweeping program, properly placed walk-off mats, and soil- and stain-repellent treatments.
 
Vacuum cleaning: We will provide daily cleaning to carpets in heavy traffic lanes.
 
Daily spot removal: We will provide quick attention to any daily soils or other spots to prevent them from becoming a stain.
 
Interim Carpet Cleaning Services
Consistent vacuuming and occasional spot cleaning are essential for keeping your carpets looking their best, but a more rigorous clean might be needed from time to time. Our interim carpet cleaning service provides:
Bonnet cleaning: We use a rotary floor machine, yarn bonnet, and the right cleaner to loosen soil on the upper carpet fibers.
 
Carpet shampooing: We utilize shampoo equipment to combine agitation with a high-foaming cleaner to loosen and suspend soils so they can be removed by dry vacuuming.
 
Restorative Carpet Cleaning Services
Are you looking for a way to restore regions of carpet that have been exposed to a lot of foot traffic? Or do you have soil and residue left over from past cleaning attempts? Our restorative carpet cleaning services have been tailored to meet these needs. This service includes:
Extraction cleaning: Using hot water, non-foaming cleaners are forced into the carpet and then immediately recovered with their soils by a powerful vacuum.
 
Special treatments: Includes odor counteractants, protective treatments, and other specialized applications.
 
At Stratus, our specialty is delivering effective and eco-friendly commercial carpet cleaning services to clients in a wide range of industries. Contact us to learn more about our various professional cleaning services that include carpets, office cleaning, pressure washing, hard floor care, and more.