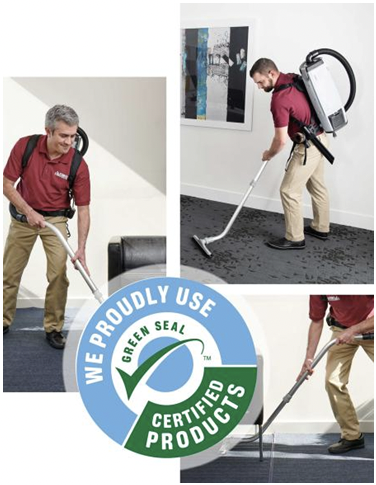 Commercial Carpet Cleaning Services in Downers Grove, IL
Carpet looks great, reduces noise, and feels soft underfoot. But filthy carpet won't do. Keep your carpeting in top shape with the help of Stratus Building Solutions. Our commercial cleaning company proudly provides detailed commercial carpet cleaning services in Downers Grove, IL.
Count On Stratus As Your Professional Carpet Cleaner
Carpets take tremendous amounts of abuse from spills, dust, and mud. Once soils and grit become embedded in the carpet, that causes bacteria, foul odors, and dingy carpets. Prolong the life of your carpet with the help of Stratus Building Solutions. Whether your commercial carpets need a deep cleaning or a quick refresh, our commercial cleaning company has the expertise and equipment to do the job right. 
We offer a range of cleaning services for your carpets to ensure they are thoroughly cleaned and maintained. The types of carpet cleaning services we offer include:
Routine Carpet Maintenance
Prevent damage to carpets and keep carpets looking newer for longer. Routine carpet maintenance takes place daily to ensure the upkeep of your carpet flooring. 
Soil and spot prevention: We will protect your carpet from outdoor soils and stains with a regular sweeping program, properly placed walk-off mats, and soil- and stain-repellent treatments.
 
Vacuum cleaning: We will provide daily cleaning to carpets in heavy traffic lanes.
 
Daily spot removal: We will pay close attention to any soil or other spots to prevent them from becoming stained.
 
Interim Carpet Cleaning Services
Daily vacuuming and spot treatment are crucial for carpet maintenance; however, your carpets will periodically require deeper cleaning, which we provide. Turn to us for:
Bonnet cleaning: We use a rotary floor machine, yarn bonnet, and the right cleaner to loosen the soil on the upper carpet fibers.
 
Carpet shampooing: We utilize shampoo equipment to combine agitation with a high-foaming cleaner to loosen and suspend soils so they can get removed by a dry vacuum.
 
Restorative Carpet Cleaning Services
Allow Stratus to address high-traffic areas with aggressive cleaning. Whether your carpet has been neglected or has residue left behind by other cleaning methods, count on us to restore your carpet. 
Count on us for thorough, restorative carpet cleaning services that include:
Extraction cleaning: Hot water and non-foaming cleaners are forced into the carpet and immediately recovered with their soil by a powerful vacuum.
 
Special treatments: Enhance your carpet service with odor counteractants, protective treatments, and other specialized applications.
 
Stratus is not limited to carpets. Additionally, we offer hard floor cleaning services to ensure the gloss and protection of your solid hardwood, tile and grout surfaces, or vinyl flooring.
Contact Stratus Building Solutions 
Whether you need a routine cleaning or intense restorative treatments, you deserve a commercial carpet cleaner that fits your needs. Let our carpet cleaning experts provide effective, eco-friendly commercial carpet cleaning services to your business. Contact us today to learn more about the carpet cleaning programs we offer.