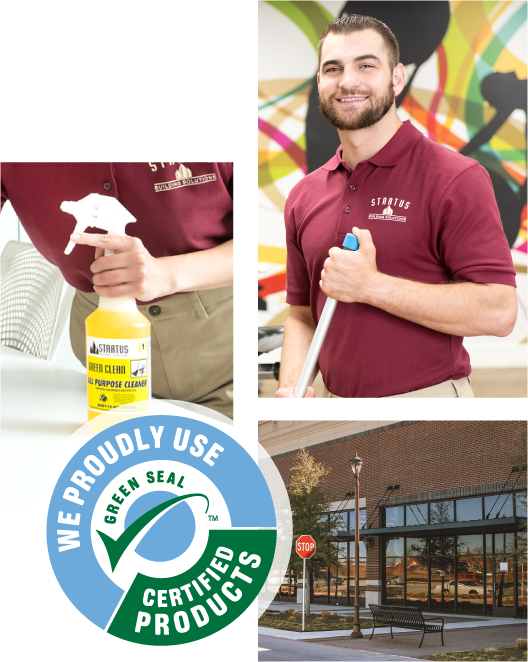 Environmentally Safe Green Commercial Cleaning Services in Honolulu, HI
As a business owner, you know that it is important to keep your operation visibly clean as well as sanitary. Dust, dirt, and stains that accumulate over time need to be removed, and germs that can cause illness need to be eradicated. But these tasks shouldn't be accomplished at the detriment of the health of those who enter your facility or with harm to the environment.
Fortunately, Stratus Building Solutions provides green commercial cleaning services in Honolulu, HI, that do not negatively impact the health of employees or guests inside your business, while also being environmentally safe. With our effective LEED-compliant green cleaning services, you can ensure that your business is comprehensively clean and inviting.
Count on Our Green Commercial Cleaning Company
Stratus is proud to provide top-notch green commercial cleaning that is adapted to fit each of our clients' needs. From retail stores to veterinary clinics and everything in between, we understand that each operation's cleaning requirements are unique, and we perform our services with this in mind. Our green commercial cleaning company offers everything from surface-level cleaning and deep cleaning to disinfecting and more, with services that include:
Carpet cleaning
Office disinfecting
Pressure washing
Restroom sanitation
Window cleaning
 
Whatever your needs are, our professionals will provide you with the exact eco-friendly green cleaning treatments you require. Our proprietary cleaning products are biodegradable, fragrance free, non-toxic, and VOC free. This means you and all of your facility's occupants don't have to worry about potential allergic reactions, headaches, or respiratory issues that are often caused by harsher cleaning chemicals.
Proprietary Stratus Green Clean Chemicals
Stratus is proud to offer a unique line of green cleaners that fit the environmental and health-conscious needs of every business. These cleaning products and methods offer benefits that include:
Being Green Seal certified
Being certified as more effective than competing cleaners
Causing minimal waste due to dilution control systems
Eliminating cross-contamination through use of color-coded micro-fiber cloths
Being healthier for your employees, customers, and other guests
 
Green Commercial Cleaning Technology
The cleaning methods utilized by Stratus have been selected for the attributes that make them beneficial to individual health and environmental safety. These include our micro-fiber cleaning cloths and mops, HEPA vacuums, UV-C sanitizing wands, and more.
Micro-Fiber Cleaning Tools
Micro-fiber effectively attracts and traps dirt to completely remove it from your facility. These cloths and mops use minimal water and chemicals, and they are color coded to reduce the risk of cross-contamination.
HEPA Vacuums
We utilize backpack vacuums with four-stage HEPA filters. These vacuums utilize micro-filters and Microtex filters that remove hair, pollen, dust, and mold, as well as most bacteria particles, down to 0.1 microns and with 99.99% efficiency.
UV-C Sanitizing Wands
For an additional cost, we can provide deep sanitation services using UV-C light. These wands can clean some of the most hard-to-reach places, such as inside of keyboards, and they do not use chemicals or leave behind odors.
Other Green Tools, Materials, and Processes
Additional tools, materials, and processes that we enlist to make our services as green as possible include:
100% post-consumer recycled janitorial utility cans and mop buckets
Post-consumer recycled paper products for kitchens and restrooms
Paperless proposals and invoice systems
Recycling systems and waste removal
Identification of sources of contamination and pollution
 
Let Stratus provide your company with green cleaning services that help you breathe easier! Contact us today to learn more and to request a unique cleaning plan for your operation.