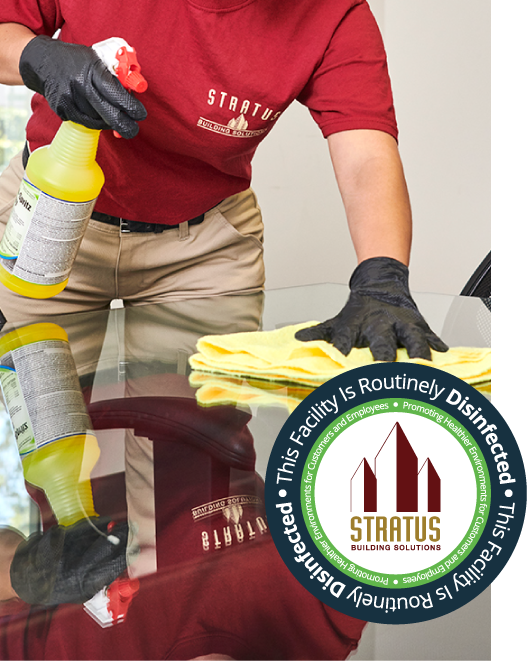 Janitorial Services in Hampton Roads, VA
Keep your business or commercial property in pristine condition by leaving the dirty work to the professionals. Turn to Stratus Building Solutions for reliable janitorial services in Hampton Roads, VA. Our national brand has been providing eco-friendly janitorial services since 2004. We're proud to continue that tradition through the franchisee of our local branch in Hampton Roads.
Enlist our highly trained franchisees and their staff to take on tasks including:
 
Restroom sanitation
Carpet cleaning
Window cleaning
Hard floor stripping and waxing
Pressure/power washing
Post-construction clearing and cleaning
Give us a call today for a free, no-obligation quote.
Dependable Commercial Cleaning Services From Trained Professionals
Stratus Building Solutions is more than your average cleaning company. Our trained franchisees provide businesses like yours with the most comprehensive green business cleaning options in the industry. Our ultimate goal is to always create a spotless and healthy environment for your employees, customers, and guests. We take this a step further by using our own line of Green Seal-certified cleaning products that are not only effective but deliver the clean you need without unnecessary toxins or VOCs. Additionally, our franchisees us 100% post-consumer recycled janitorial utility cans and mop buckets. Whether you need school, medical, or office cleaning services, choose Stratus for all your business cleaning needs.
Contact Us
Get in Touch
Provide a healthier environment for your customers and employees, inquire today about what Stratus can do for you.
---
The Office
Serving Area:

Hampton Roads

Address:

5269 Greenwich Road, Suite 200 Virginia Beach, VA 23462

Phone:

(757) 904-1668
---
Business Hours
Monday:
9:00 am - 5:00 pm
Tuesday:
9:00 am - 5:00 pm
Wednesday:
9:00 am - 5:00 pm
Thursday:
9:00 am - 5:00 pm
Friday:
9:00 am - 5:00 pm
Green

Commercial Cleaning Services
Franchisees and their staff provide businesses like yours with the most comprehensive green cleaning options in the industry. Environmentally responsible, we take pride in being a Green Business offering LEED-compliant janitorial services. Every aspect of the cleaning services you receive make use of UV-C light, allergy reducing HEPA filters, and microfibers to reduce the use of chemicals. Your space is left immaculate with cleaning agents that are:
∙ Green Seal-Certified
∙ Biodegradable
∙ Nontoxic
∙ No-VOC (Volatile Organic Compounds)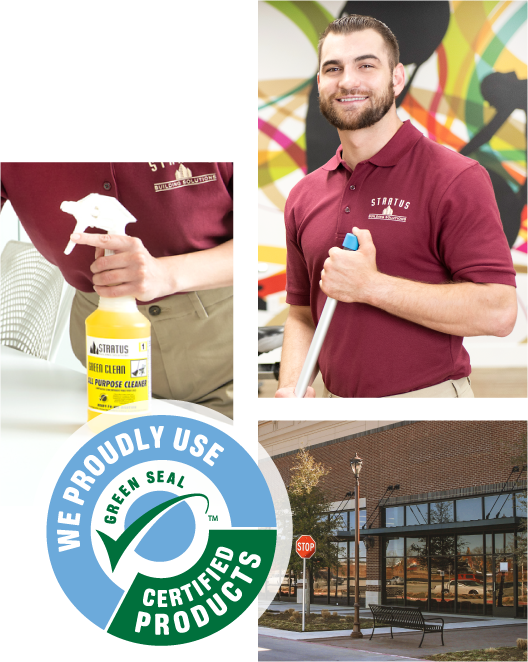 ---
Call us today and receive a free quote on customized janitorial services
---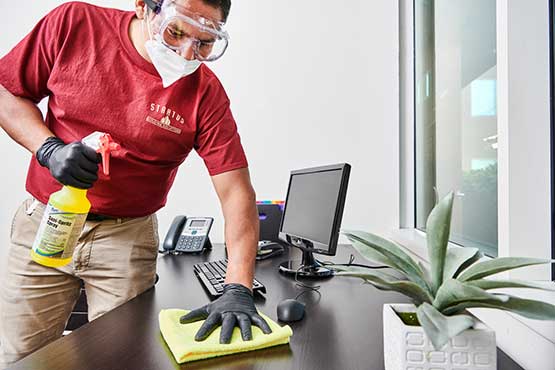 Commercial Cleaning Services for Your Business
Stratus franchisees do more than just take out the trash. We are committed to you. Each member of our franchisees' staff undergoes an extensive two-week training program and is certified in Stratus Green Clean Procedures. As professionals, we always show up for the job wearing a uniform and a photo ID. You have access to our customer support emergency line 24/7. Our protections include:
∙ $2 Million in General Liability
∙ Workers Compensation
∙ Theft Policy Coverage
∙ $50,000 Janitorial Bond
Mobile Janitorial Cleaning Services You Can Count On
Discover firsthand why we're the industry leader in green commercial cleaning and janitorial services.
Since we're a mobile company, we can easily travel to any facility in the Hampton Roads area. We make it our mission to provide customized services at competitive rates that meet your schedule. Your designated Stratus crew shows up on time to help keep your business running smoothly. Contact us to discuss your specific needs so we can get to work doing what we do best.
---
Call us today and receive a free quote on customized janitorial services
---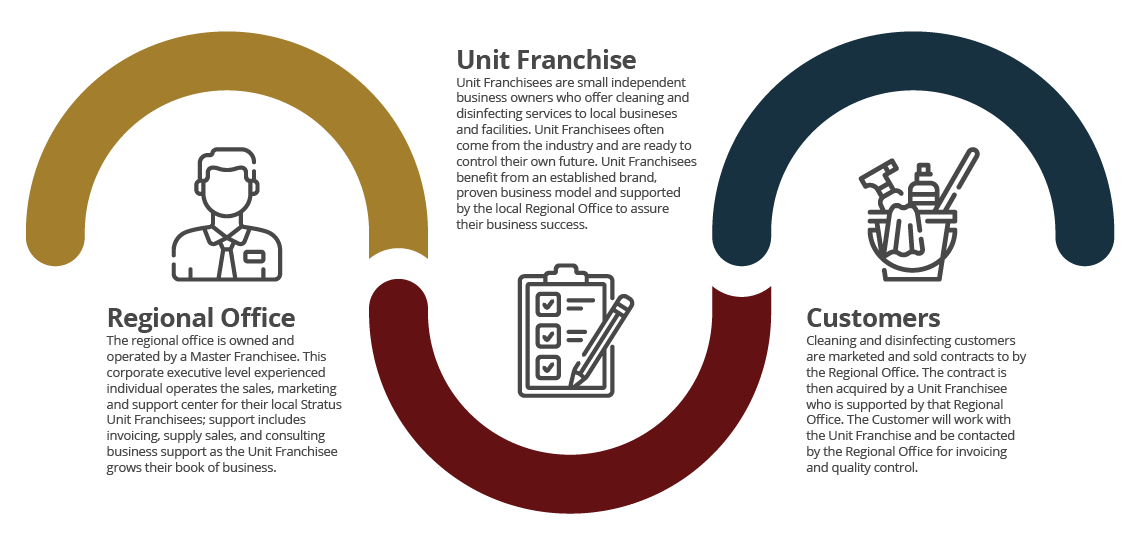 ---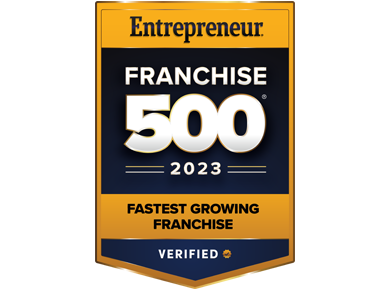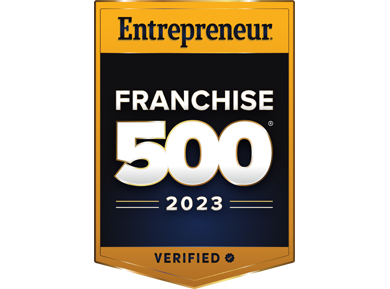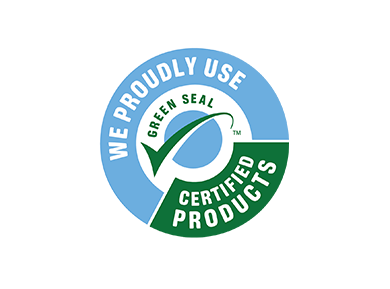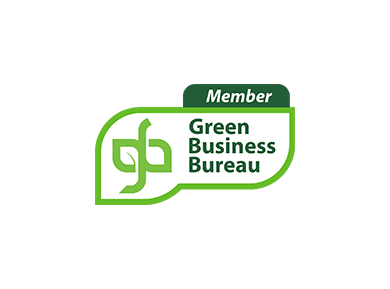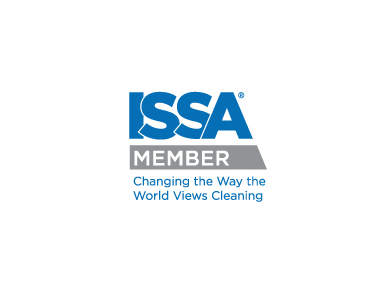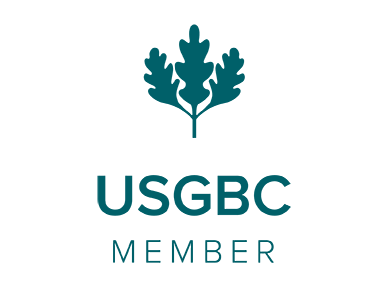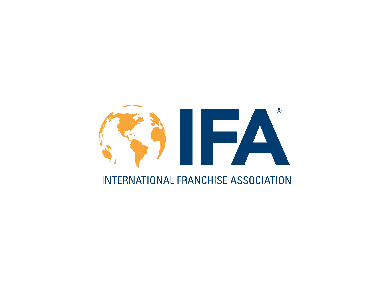 ---
---
Call us today and receive a free quote on customized janitorial services
---