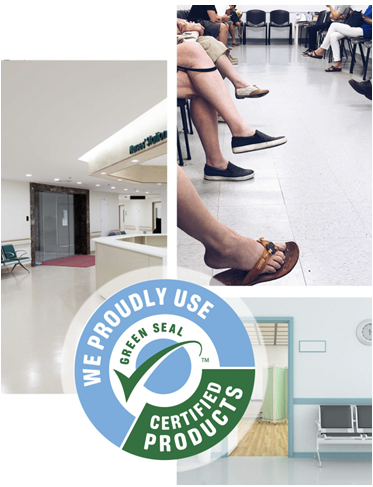 Medical Cleaning Services in Columbia
Ensure your hospital or clinic maintains top-notch cleanliness by trusting Stratus Building Solutions with your medical cleaning needs. Our highly trained team utilizes advanced tools and materials to provide a deeper kind of cleaning, ensuring a safe environment for your patients, staff, and visitors. We take pride in our use of Green Seal-certified, highly effective germicides, disinfectants, and other cleaning solutions, leaving behind no dangerous chemical residues. Trust us to deliver flawlessly clean and sanitary medical cleaning services in Columbia, SC.
We understand the crucial role of thorough and attentive cleaning for medical facilities and offices. As the preferred healthcare cleaning service for facilities in the area, we prioritize the highest quality standards, including the use of non-toxic, VOC-free cleaners. Our backpack vacuums equipped with four-level filtration systems efficiently eliminate dust and microbes, ensuring a clean and safe environment for your patients and staff.
The Premier Medical Office Cleaning Service
Our Health Care Division employees undergo extensive training through our specially designed Hospital/Medical Clinical Training Program. Each member completes 15 hours of classroom training and must pass a final exam before entering your facility for hospital cleaning services. Our training program covers various topics, ensuring that our team is well-equipped to provide superior service.
A few of the topics addressed by our training program include
Medical-grade commercial cleaning
Applicable OSHA and JCAHO standards
Bloodborne pathogen standards
Floor care and sanitation
Sanitation and disinfectants
Cleaning of offices, exam rooms, surgical suites, and imaging areas
Hospital department-specific procedures
Patient room cleaning
Restroom cleaning
Basic understanding of microorganisms, pathogens, and transference
 
Excellent Service From Highly Trained Professionals
Discover the difference our unparalleled sanitizing services can make for your medical facility. Our commitment to the highest cleaning standards means you can trust our team to keep your health center spotlessly clean. From green cleaning services to commercial floor care and bathroom sanitation, we go above and beyond to maintain a higher caliber of cleanliness. Contact us today to learn more.