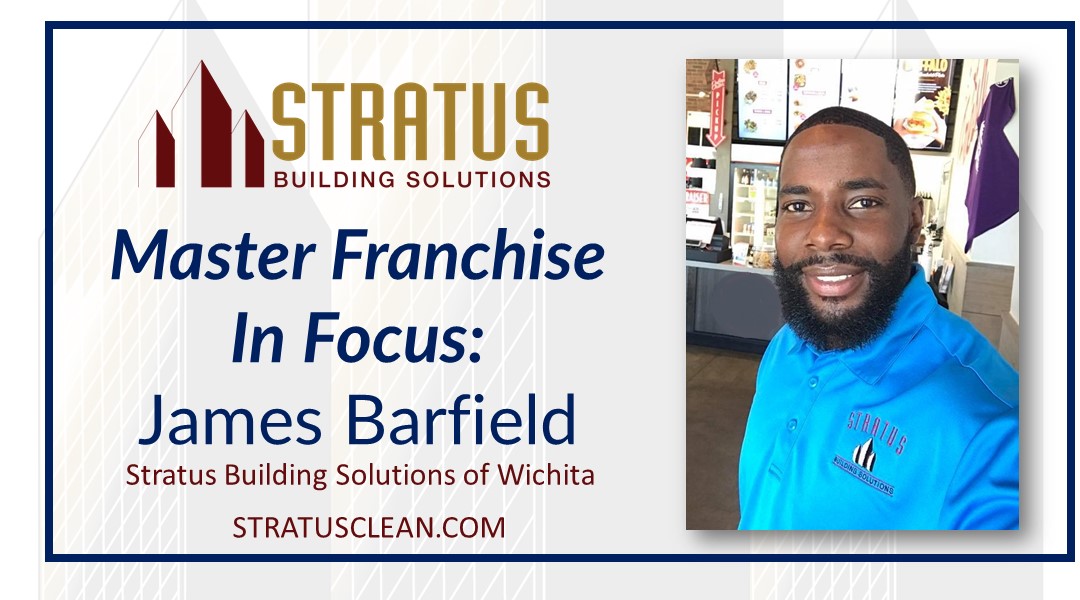 Written by
rachel
02 May
Category:
The key to a nice, lush green lawn is planting seeds at the correct depth to establish strong roots. The same can be said with most of America's business owners, including James Barfield. He's the Wichita, Kansas area master franchisee for Stratus Building Solutions, the nation's leading green commercial cleaning and janitorial services franchise. At 32, Barfield is currently Stratus Building Solutions' youngest master franchisee in the system. Barfield's journey is rooted in a steep family history, trials and tribulations and a tenacious never-surrender spirit.
Barfield has a tight-knit relationship with Wichita. He's a native to the city in south-central Kansas. His parents, James and Theresa, are well known, particularly in Wichita's African-American community. "Both of my parents are entrepreneurs," Barfield says. "They gave me a strong foundation from which to operate."
The Barfield's entrepreneurial tree includes Theresa's women's clothing business. She catered to professional women over the age of 40. "My mom helped women 'dress for success,' – helping women get started or start over," says Barfield. The elder James owned a computer repair sales business. The Barfield's also had a makeup line that was featured in JC Penny.
James' parents provided a strong foundation. That didn't translate into immediate success for him. "Like any teenager, there were temptations in my life that tried to knock me off my path," he recalls. "I drifted away from my foundation. When I saw several friends wind up in jail, that terrified me. Those bumps in the road eventually woke me up."
Philanthropy and mentorship are guiding principles for Barfield. Besides getting an up close and personal look of business ownership from his parents, Barfield received guidance from a program called Youth Entrepreneurs of Kansas. "I'm a firm believer in giving back to the community," says James. "I went to YEK as a kid and now I'm giving back to it. I go to South High School here in Wichita once a week to help the kids brainstorm and problem solve. There's always a need for mentors. It's my duty to feel the void."
To keep his mind sharp, Barfield says he reads two to three books a month minimum. "It helps me stay on the right path," he says.
In October 2016, his path led Barfield to Stratus Building Solutions. "I discovered the business opportunity through a franchise broker and extensive online research," says James. "It turned out to be the perfect opportunity."
His family experiences, coupled by his own determination and never-ending desire to obtain knowledge, helped Barfield make a smooth transition into entrepreneurship. He also had a chip on his shoulder. "I always think about the people who told me I would fail," James says. "Teachers, past employers, whomever. There's always a part of me that is working to prove those who doubted I could be a business owner wrong."
In November of 2017, James made the leap to a master franchisee. He is the youngest and was the first African-American master franchisee to join the Stratus family. He doesn't take the designation lightly. In a span of four months, Barfield has already brought five unit franchise owners under his wing. Those units have already hired 15 people – a boon for local residents eager to find good jobs. "I'm taking the same approach with the students at the YEK program as I am with Status Business Solutions unit franchisees," says James. "I want to teach them how to be successful, show them what groups to join, how to tackle taxes, and how to reach more clients."
Barfield's end of year 2018 goal is to have an additional 15 unit owners who hire 80-to-100 employees. "Being a master franchisee hasn't come without challenges," he says. "It's a brand-new role for me, and it requires a big learning curve.  But I'm learning fast and building some serious momentum.  We have set some lofty goals, but I'm confident we'll meet, or even exceed, them!"
That's no surprise.   The former high school basketball and baseball player doesn't shy away from challenges, inside or outside the lines. Like his family's roots, his desire to succeed is strong.
Are you in search of a similar business ownership experience as James Barfield? Does the Stratus Building Solutions franchise opportunity sound like it could be for you? If so, learn more at http://www.stratusclean.com/.