Commercial Cleaning Franchise Opportunities in Kansas City, KS
If you relish the idea of being your own boss, then Stratus Building Solutions might have an answer for you. In Kansas City, KS, we're proud to provide you with an industry-leading green commercial cleaning and janitorial franchise opportunity. Find success with a turn-key business model from Stratus Building Solutions.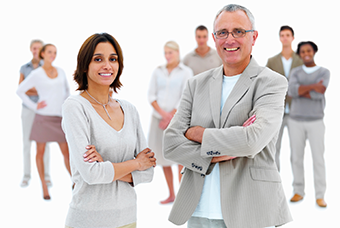 Why a Stratus Franchise?
Stratus Building Solutions provides an environmentally friendly commercial cleaning experience driven by entrepreneurial, small business owners and regional support centers. Since 2006, Stratus Building Solutions has become is the industry leader in green facilities maintenance. The company prides itself on offering exceptional, turn-key franchise opportunities. With a proven Stratus Building Solutions business model and a commitment to customer service, your own commercial janitorial service franchise has unlimited earning potential.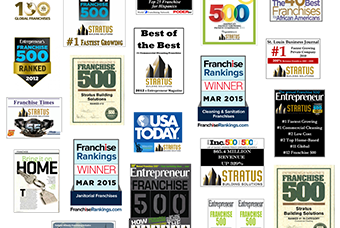 Award Winning Opportunity
Stratus Building Solutions thrives as an innovative franchise company in the Commercial Cleaning Services Industry, gaining top recognition from Entrepreneur Magazine in 2016 and 2017 for Top 20 Fastest Growing Franchise, #71 in the Franchise 500 and #2 in Category, recognition in the 2017 Top 100 Global Franchises, and ranking in the Franchise Times Fast 55 amongst others. Stratus prides itself on offering exceptional, turn-key franchise opportunities.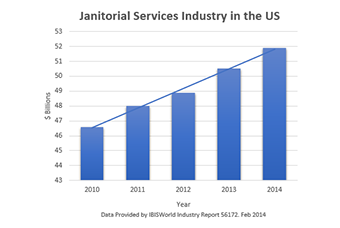 Why Janitorial Services?
The Commercial Cleaning and Janitorial Industry is one of the fastest growing service industries in the world today and is projected to continue to provide tremendous opportunity. Demand for green products and services has also profoundly increased, an area which Stratus successfully leads the commercial cleaning franchise industry. Frequent customers are schools, medical offices, shopping centers, warehouses, dealerships, religious centers, professional offices, daycares, retail stores, gyms and more.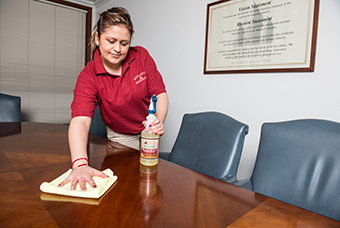 The Stratus Difference
Stratus Building Solutions offers a turn-key, janitorial service unit franchise opportunities. With the lowest investment costs in the industry and availabilities in major metropolitan areas, Stratus provides the nation's premier business opportunities in the commercial cleaning industry.
Success for Today and the Future
Stratus Building Solutions' Unit Franchise business model targets recurring revenue streams based on contracted services, assuring a consistent income for today and into the future. Many economists also label the commercial cleaning industry as recession-proof. It is distinctive in providing a continuous income even during an economic downturn, as proven by many existing Stratus franchises.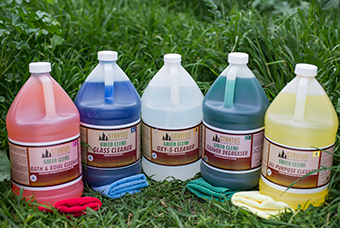 At the Forefront
In an ever increasing health and environmentally conscious consumer market, the demand for Stratus® Green Clean services puts it at the forefront of the commercial cleaning industry. Offering a range of special services, customizable options, state-of-the-art cleaning equipment with air-quality improvement components, and Green Seal Certified Stratus® Green Clean chemicals, Stratus Building Solutions® is second to none in green janitorial and the pursuance of cleaning for health.
How It Works
We have 28 regional sales and support offices nationwide. Through these, we lend a hand to burgeoning business people who want to invest in their personal futures. Your initial investment can be as low as $1,000 down, but you can also choose to invest much more thanks to our various levels of opportunity. The executive level, for example, requires an initial investment of $50,000. The prospect for growth is substantial. As a matter of fact, we were ranked the #20 Fastest Growing Franchise in 2017. Through hard work and conscientious janitorial service, you can secure your success for today and the future.
The Green Advantage
In addition to having the lowest costs in a recession-proof industry, we also stress the importance of taking care of the environment. We'll provide you with the most advanced office cleaning technology on the market, including microfiber cloths and mops, ultraviolet cleaning wands, and microfilter vacuums. We've earned Green Seal certification because we provide our franchisees with access to the latest biodegradable cleaners that also contain zero known carcinogens. In this way, we ensure that your customers won't just have better-looking businesses but also safer environments for customers and employees.
If you want to get a self-owned commercial cleaning business going in Kansas City, consider Stratus Building Solutions. We've been ranked #2 in our category on the Franchise 500 in 2017. We're eager to help you share in our success. To take advantage of this affordable opportunity and build something you can be proud of, contact us today and experience the Stratus difference.